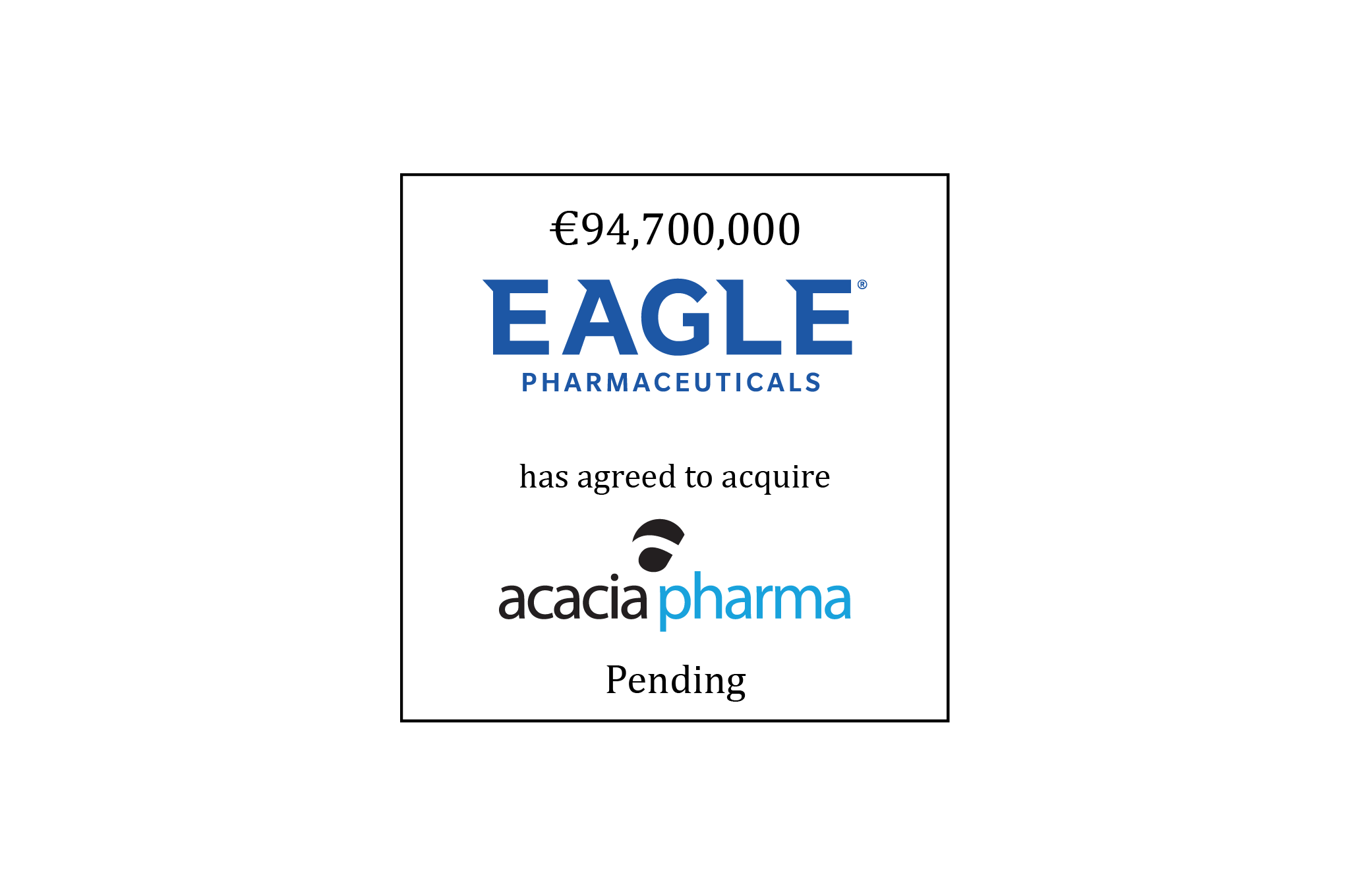 William Blair acted as the exclusive financial advisor to Eagle Pharmaceuticals, Inc. (Nasdaq: EGRX) in connection with its pending acquisition of Acacia Pharma Group plc (EURONEXT: ACPH) by way of a scheme of arrangement for €94.7 million ($104 million) in cash and Eagle Pharmaceuticals stock. The transaction was signed on March 27, 2022 and is expected to close in late Q2 2022.
About the Companies
Eagle Pharmaceuticals is a fully integrated, commercial-stage specialty pharmaceutical company developing safe and efficient injectable treatments for patients across oncology, critical care, and orphan diseases. Eagle's commercialized products include vasopressin injection, PEMFEXY™, RYANODEX®, BENDEKA®, BELRAPZO®, TREAKISYM (Japan), and its oncology and CNS/metabolic critical care pipeline includes product candidates with the potential to address underserved therapeutic areas across multiple disease states. Eagle Pharmaceuticals was founded in 2007 and is based in Woodcliff Lake, NJ.
Acacia Pharma is a pharmaceutical company focused on the development and commercialization of new products aimed at improving the care of patients undergoing significant treatments such as surgery, other invasive procedures, or cancer chemotherapy. Acacia Pharma's commercialized assets include BARHEMSYS®, for the treatment of post-operative nausea and vomiting, and BYFAVO®, for the induction and maintenance of procedural sedation in adults undergoing procedures lasting 30 minutes or less. Acacia Pharma has its U.S. headquarters in Indianapolis, IN and its R&D operations are centered in Cambridge, U.K.
Learn more about our biopharma investment banking expertise.