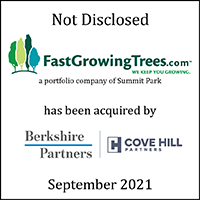 William Blair acted as financial advisor to Fast Growing Trees, a portfolio company of Summit Park Partners, LP ("Summit Park"), in connection with its sale to Berkshire Partners. Cove Hill Partners will also participate in the transaction as a minority investor. The transaction was signed on July 29, 2021 and closed on September 13, 2021.
Transaction Highlights
Deep sector and product expertise: Fast Growing Trees and Summit Park recognized William Blair's extensive knowledge and experience advising market-disrupting consumer products companies and ability to clearly articulate those compelling growth stories to investors.
Unmatched buyer relationships and insights: William Blair's highly relevant and unique insights with the most likely buyers enabled the team to provide differentiated intelligence for a highly customized and efficient process.
Execution excellence leads to premium valuation: William Blair's team managed a highly competitive, accelerated process, driving an exceptional, pre-emptive outcome for Fast Growing Trees, with Berkshire differentiating themselves through speed and expedited diligence.
About the Companies
Fast Growing Trees offers consumers a broad variety of high-quality trees and shrubs through its branded websites fast-growing-trees.com, brighterblooms.com, and plantingtree.com. The company provides customers with a best-in-class e-commerce experience and access to more than 1,200 varieties of trees, plants, and shrubs that are available for nationwide home delivery, typically within three days of placing an order. Fast Growing Trees sources its products from a geographically diverse network of trusted suppliers and has built a reputation in the marketplace for offering high-quality products and superior customer service. The company's differentiated consumer experience is disrupting traditional channels in its large and steadily growing category.
Summit Park invests in lower middle market companies that have operations primarily based in the Eastern half of the U.S. and have revenues between $20 and $100 million and EBITDAs between $4 million and $12 million. Sectors of interest include business and consumer services, light manufacturing and value-added distribution. Summit Park was co-founded by partners Bob Calton and Jim Johnson in 2006 and is headquartered in Charlotte, NC.
Berkshire Partners, a Boston-based firm, has 35 years of investment history. Berkshire Private Equity has made more than 130 private equity investments since its inception and has a strong history of partnering with management teams to grow the companies in which it invests. Stockbridge, the firm's public equity affiliate, was founded in 2007 and seeks to make public equity investments in high-quality companies with strong competitive positions and long-term growth prospects. Berkshire Partners has been an active investor in the consumer sector since its inception; example investments include Aritzia, Bare Escentuals, Coty, CrossFit, Kendra Scott, and Portillo's. Berkshire Private Equity has a flexible investment mandate and aims to invest $100 million to $1 billion in each portfolio company.
Learn more about our consumer and retail investment banking expertise.