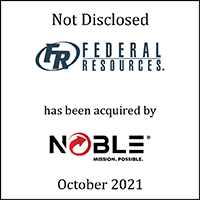 William Blair acted as exclusive financial advisor to Federal Resources Supply Company (Federal Resources) in connection with its sale to Noble Supply and Logistics. The transaction closed October 26, 2021.
Transaction Highlights
Optimal positioning: During early conversations, which led to a preemptive bid, William Blair successfully positioned Federal Resources as a value-added supplier of highly technical safety and security solutions serving a wide range of customers, including military, federal, state, and local first responders.
Execution excellence: The transaction team's significant upfront preparation, including an in-depth market study and detailed quality of earnings report that substantiated pro forma earnings, resulted in a successful outcome for Federal Resources' shareholders.
Strong relationship and trusted guidance: William Blair leveraged its multi-year relationship with the seller to be the trusted advisor of choice for this sell-side transaction.
About the Companies
Federal Resources, founded in 1986, is a supplier of highly technical safety and security solutions primarily serving the U.S. military, federal government, and state and local first responders. The company offers:
Procurement and distribution expertise as a leading provider of technical solutions for highly attractive growth segments of defense, Homeland Security, and first responder markets.
Differentiated life cycle sustainment including consultative support services that create a network of valuable offerings throughout a customer's mission life cycle, including guidance through complex government procurement processes.
Federal Resources' end markets include CBRNE (chemical, biological, radiological, nuclear & explosive, and emergency preparedness), C4ISR (command, control, communications, computers, intelligence, and surveillance & reconnaissance), and MRO (maintenance, repair, and operations).
Noble is a provider of supply chain management, logistics, mission support, and technology solutions for the U.S. military and federal, state, and local governments. Headquartered in the greater Boston area, the company operates around the world under multiple DLA TLS Prime Vendor contracts and GSA Multiple Award Schedules. Its global footprint includes 26 storefront operations and six international operations centers, distribution centers, and consolidation points positioned to expedite delivery and enhance product availability. As a distributor of 11,000 manufacturers, Noble stocks more than a million items in warehouses throughout the U.S. and abroad.
Learn more about our aerospace, defense, and government services investment banking expertise.