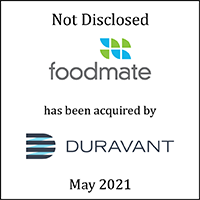 William Blair acted as the exclusive financial advisor to Foodmate in connection with its sale to Duravant, a portfolio company of Warburg Pincus.
Transaction Highlights
Deep sector knowledge: Foodmate valued William Blair's deep knowledge of the food and industrial technology markets. The transaction team's familiarity with the company's differentiated technology and strategic buyer landscape with strong conviction in the space was essential to a successful outcome for Foodmate.
Successful positioning: The transaction team clearly articulated Foodmate's position as the market leader in poultry processing solutions. The team also highlighted the Company's successful track record of continuous innovation and growing international customer base.
Process and execution excellence: William Blair designed a customized marketing process targeting a select group of the most relevant strategic buyers based on knowledge from recent William Blair interactions. This highly structured process optimized competitive dynamics resulting in significant price increase from initial indications to final binding offers.
About the Companies
Founded in 2006 and dual headquartered in Numansdorp, Netherlands, and Atlanta, Georgia; Foodmate is a premier provider of innovative technology and cost-effective solutions for poultry processing that optimize yield, improve quality, and reduce labor cost while maintaining a low cost of ownership. The company has a successful track record of project execution in over 65 countries globally over the past 15 years. Foodmate has a manufacturing facility in the Netherlands and additional sales and software engineering offices in United States, Brazil, United Kingdom and Poland.
Based in Downers Grove, Illinois, Duravant is a market-leading engineered equipment and services company with an over 100-year operating history. The company operates a portfolio of market-leading brands that serve the global food processing, packaging and material handling sectors including: Afoheat, Arpac, Fischbein, FMH Conveyors, Hamer-Fischbein, Mespack, and Marlen International. Duravant serves customers and partners in over 190 countries worldwide, across sectors including food and beverage, e-commerce, agriculture, household goods, pharmaceuticals, distribution, and industrials. The company has manufacturing facilities and sales offices throughout North America, Europe, and Asia.
Warburg Pincus LLC is a leading global private equity firm focused on growth investing. The firm has over $60 billion in private equity assets under management. Warburg Pincus' active portfolio of over 140 companies is highly diversified by stage, sector, and geography. Founded in 1966, Warburg Pincus has raised 16 private equity funds that have invested more than $90 billion in over 930 companies in more than 40 countries.
Learn more about our industrials investment banking expertise.