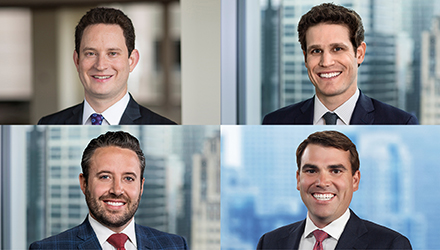 William Blair's David Brown, David Dreifuss, Andrew Feichter, and Andrew Sims were named to Financial Planning magazine's Top 40 Advisors Under 40 regional list released on February 2.
The list recognizes the top producing younger advisors at wirehouses and regional firms who were under 40 on December 31, 2020. Feichter also made the Top 40 Under 40 Financial Advisors national ranking published on January 25.
"Congratulations to David Brown, David Dreifuss, Andrew Feichter, and Andrew Sims on being recognized as top young wealth advisors," said Ryan DeVore, William Blair's global head of private wealth management. "This generation of advisors is a dedicated group of professionals who continue the William Blair legacy of customizing investment strategies and providing financial planning solutions with an unwavering focus on clients' evolving needs. It is an honor to see them recognized for their work."
Brown, Dreifuss, Feichter, Sims and their teams serve individuals, families, organizations, and foundations to help them achieve their investment goals, strengthen family legacies, and endow their clients' charitable activities.
All are partners of the firm and have an average tenure of more than 10 years in the financial industry and at William Blair.
Financial Planning 2021 Top 40 Advisors Under 40 Regional Rankings
Financial Planning 2021 Top 40 Advisors Under 40 National Rankings