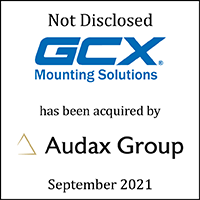 William Blair acted as exclusive financial advisor to GCX Corp. in connection with its sale to Audax Group.
Transaction Highlights
Deep sector knowledge: GCX was attracted to William Blair's extensive knowledge and highly relevant transaction experience advising leading companies in the medical technology space.
Strong trusted guidance: William Blair's deal team worked closely with GCX management throughout each step of the transaction process, including performing financial analyses, developing marketing materials, coordinating investor outreach, counseling on transaction tactics, and negotiating key contract terms.
About the Companies
GCX Corp. (the "Company") is a family-owned business based in Petaluma, California. The Company is the global leader in outsourced medical equipment mounting and mobility solutions. Founded 50 years ago, GCX serves both medical device OEM and hospital customers on a global basis. Major product lines include mission-critical wall mounts, specialty roll stands, hospital mobile carts and a variety of mounting accessories.
Audax Group is a leading alternative investment manager with offices in Boston, New York, and San Francisco. Since its founding in 1999, the firm has raised over $26 billion in capital across its private equity and private debt businesses. Audax Private Equity has invested over $5 billion in more than 130 platforms and over 825 add-on companies, and is currently investing out of its $3.5 billion, sixth private equity fund. With more than 250 employees and over 100 investment professionals, the firm is a leading capital partner for North American middle market companies.
Learn more about our medical technology investment banking expertise.