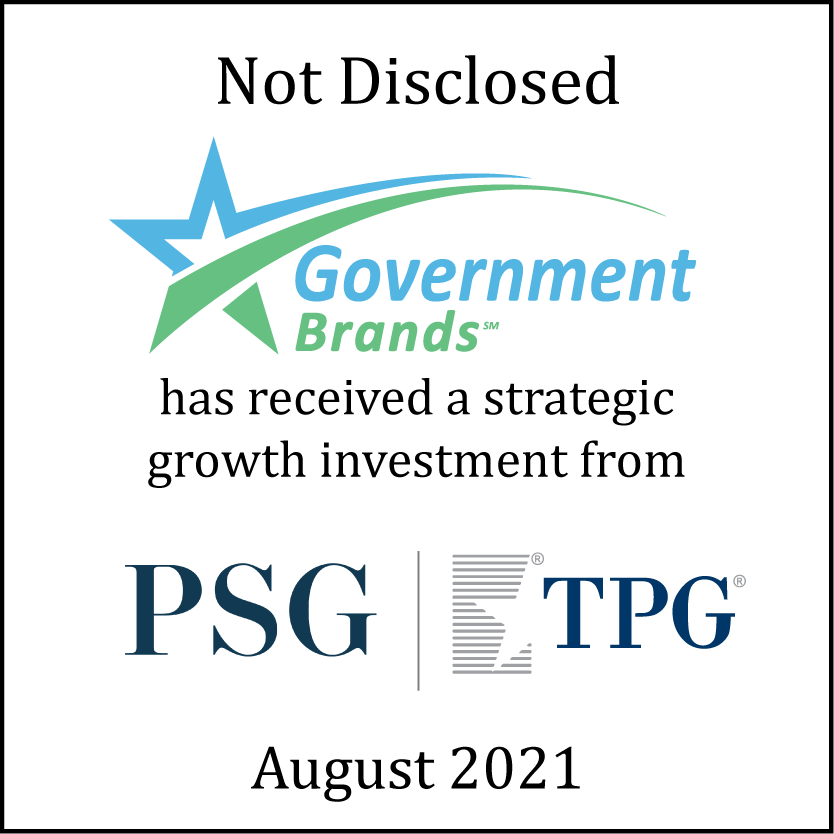 William Blair acted as the exclusive financial advisor to Government Brands, a portfolio company of PSG and Greater Sum Ventures (GSV), in connection with its strategic growth investment from PSG and TPG. The transaction signed on June 27, 2021 and closed on August 4, 2021.
Transaction Highlights
Breadth and depth of domain expertise: Government Brands, PSG, and GSV were attracted to William Blair's unrivaled experience advising market-leading GovTech platforms, as well as its extensive transaction history across all dimensions of the Government Brands platform, including vertical software and payments. With unmatched expertise across these aspects, William Blair was able to provide differentiated guidance and articulate Government Brands' powerful growth story as the only end-to-end software & payments platform of scale serving the government sector.
Leading M&A execution capabilities: The transaction team ensured thorough and robust preparation at the onset to maximize process agility and flexibility, given the intricacy of the Government Brands story. With a meticulously designed and executed process informed by highly proprietary buyer insights, the team generated significant market interest from both sponsors and strategics and secured a premium outcome for all stakeholders.
Trusted guidance and strong relationships: William Blair maintains a long-standing partnership with PSG and GSV, having advised on multiple high-value transactions across their software + payments portfolios over the past year.
About the Companies
Government Brands, LLC is a leading provider of government software and integrated payment solutions. Based in Alpharetta, Georgia, Government Brands offers comprehensive solutions for all sizes of government entities - municipalities, counties, states, and federal agencies - with thousands of clients in all 50 states and Canada. Government Brands has more than 500 employees in offices throughout the United States and Canada.
PSG is a growth equity firm that partners with middle-market software and technology-enabled services companies to help them navigate transformational growth, capitalize on strategic opportunities and build strong teams. Having backed more than 80 companies and facilitated over 325 add-on acquisitions, PSG brings extensive investment experience, deep expertise in software and technology, and a firm commitment to collaborating with management teams. Founded in 2014, PSG operates out of offices in Boston, Kansas City and London.
Greater Sum Ventures is an entrepreneurial family office that invests its own capital in middle-market software and tech-enabled services companies. Founded in 2015 and headquartered in Knoxville, Tennessee, GSV provides access to capital and operational support to middle-market technology firms all over the world.
TPG is a leading global alternative asset firm founded in 1992 with $96 billion of assets under management and 12 offices worldwide. TPG's investment platforms are across a wide range of asset classes, including private equity, growth equity, impact investing, real estate, secondaries, and public equity.
Learn more about our technology investment banking expertise.