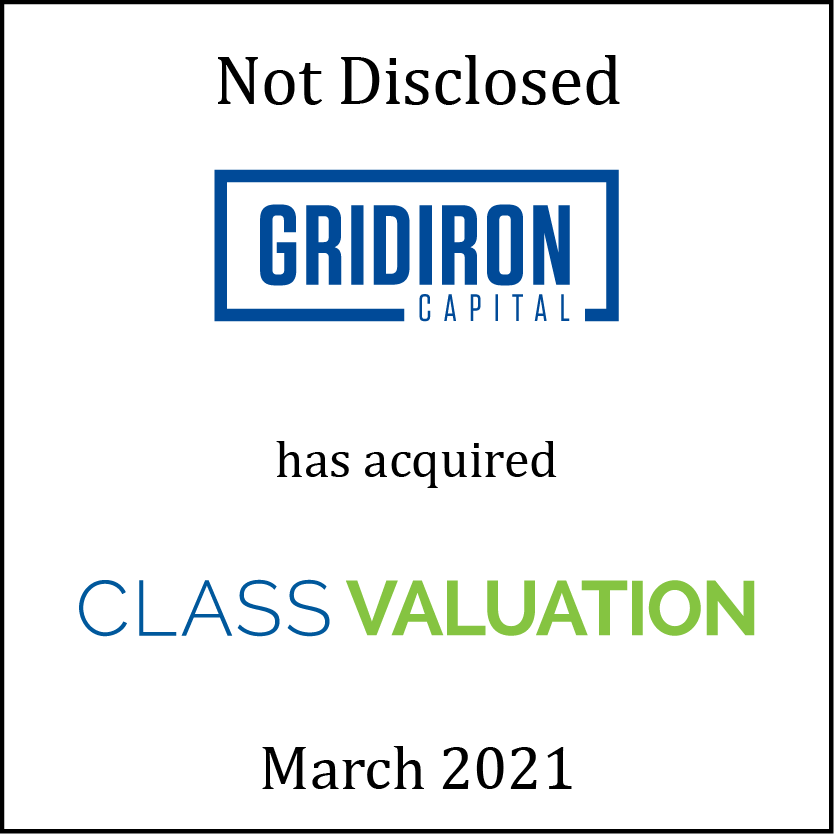 William Blair acted as the exclusive financial advisor to Gridiron Capital, LLC (Gridiron), in connection with its acquisition of Class Valuation, a portfolio company of Narrow Gauge Capital (NGC). The transaction closed on March 31, 2021.
Transaction Highlights
Differentiated sector expertise: Gridiron Capital was attracted to William Blair's extensive knowledge of, and experience in, the real-estate services & software ecosystems. The transaction team's extensive knowledge of the residential real-estate ecosystem and software M&A market enabled William Blair to provide highly actionable insights and advice to the Gridiron team throughout the transaction process.
Long-standing relationship and guidance: William Blair has maintained a strong and trusted partnership with Gridiron over the course of many years. The transaction team worked closely with Gridiron to provide unique market insights and partnered with the team to develop a robust set of growth strategies for Class Valuation.
About the Companies
Class Valuation is a top nationwide Appraisal Management Company (AMC), delivering outstanding quality and service to every client. The company is committed to combining the best people, products, processes, and technology available to help lenders make more homeownership dreams come true. Class has consistently been ranked highly in client service by several of the nation's top ten mortgage lenders and has been recognized as a top place to work, along with receiving many other industry awards. Founded in 2009, Class Valuation is based in Troy, Michigan.
Gridiron Capital is an investment firm focused on partnering with founders, entrepreneurs, and management teams, and creating value by building middle-market companies into industry leaders in branded consumer, B2B and B2C services, and niche industrial segments in the United States and Canada. We help transform growing companies by winning together through hard work, partnerships grounded in shared values, and a unique culture that comes from hands-on experience building and running businesses. As a team led by former operators and entrepreneurs, we know what it takes to run successful businesses on a day-to-day basis.
Learn more about our technology investment banking expertise.