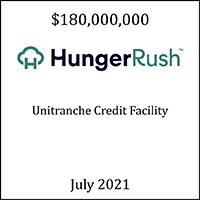 William Blair acted as exclusive financial advisor to HungerRush, LLC (HungerRush), a portfolio company of The CapStreet Group (CapStreet), to refinance its existing indebtedness and to support future growth. The transaction closed on July 23, 2021 and highlights the expertise and trusted guidance that William Blair brings to leveraged finance transactions.
Transaction Highlights
Industry expertise helped position client or success: William Blair's dedicated team of leveraged finance and software specialists led an extremely successful financing effort.Direct experience in the restaurant software space, along with knowledge of the nuances specific to the business and industry, helped William Blair position HungerRush to obtain the best possible outcome.
Fit with William Blair's leveraged finance expertise: CapStreet engaged William Blair's leveraged finance team because of its extensive debt structuring capabilities, broad network of alternative capital providers, and proven ability to drive exceptional financing outcomes. The transaction team marketed the opportunity to lenders, coordinated the diligence process, provided guidance regarding key deal elements, and helped manage the closing process. As a result, the team was able to deliver a complete financing solution to support HungerRush's organic growth and aggressive M&A pipeline.
Seamless coordination: CapStreet and HungerRush valued the breadth of advisory expertise across the technology sector and leveraged finance teams, providing advice and execution throughout the deal lifecycle.
About the Companies
HungerRush offers an all-in-one Point-of-Sale software platform for the modern digital restaurant. HungerRush lets the restaurant own the relationship with their customers by mastering operational efficiency, creating awesome guest experiences with ease, and mining customer transactional data for additional insights. The easy-to-use, highly configurable all-in-one platform includes multi-channel digital ordering, loyalty, and rewards, Point-of-Sale, Tablet POS, digital signage, delivery management and support, takeout and curbside communications, no-contact capabilities, and reporting.
The CapStreet Group is a Houston, Texas-based private equity firm that invests in lower middle market companies. CapStreet targets companies focused on industrial products and distribution, software, and tech-enabled business services. CapStreet's approach is to partner with excellent management teams to build out corporate infrastructure, accelerate growth and profitability, and create long term sustainable businesses.
Learn more about our leveraged finance and technology investment banking expertise.