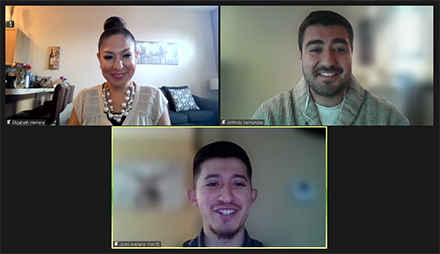 In honor of Hispanic Heritage Month, William Blair and the Hispanic Alliance for Career Enhancement (HACE) teamed up to host career coach Elizabeth Herrera for a virtual talk—Building Effective Partnerships and Networks—in both careers and personal lives.
"Our culture makes a huge difference in the way we communicate, understand other peoples' values, and build our relationships," said Herrera, a director of career development with the University of Illinois-Chicago, during the colleague event held October 7. She cited increased awareness of cultural differences, active listening, and a welcoming space for all cultures as keys to building effective partnerships and networks across cultures.
Herrera has more than 20 years of experience in career counseling. In addition to her position with the University of Illinois, Herrera is an independent career counselor and a consultant to HACE, a William Blair community partner.
HACE, founded in 1982, is a national nonprofit dedicated to the employment, development, and advancement of Latino professionals. With 85,000 members nationwide, HACE works with employers to help them attract, develop, and retain Latino and diverse professionals.
Value Conflicts Impact Relationship Building
Herrera said conflicts between one's cultural values and traditional corporate values can impact building professional networks.
"Humility," "work hard," and "modesty" are traditional Latino values, she noted, while "self-expression," "work smart," and "self-advocacy" are strong corporate values.
Growing up in a Hispanic family and community, Herrera was taught never to interrupt.
"For me, that was a barrier in the workplace," she added, recalling experiences early in her career when she found it difficult to jump into conversations.
"There were times I would leave a meeting having never said anything because I didn't know when it was an appropriate time to chime in without interrupting," Herrera said. "It was something I had to learn to become comfortable in doing."
Herrera encouraged others to step out of their comfort zone, which is particularly difficult for introverts.
"We all have something to offer, we all provide value and a skill set regardless of years of experience—seasoned or starting out," she said. "We can leverage each other."