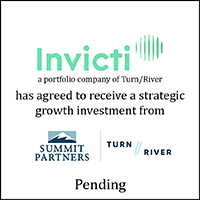 William Blair acted as exclusive financial advisor to Invicti Security (Invicti) in connection with its pending strategic growth investment led by Summit Partners (Summit). Summit will join forces with Turn/River Capital, which first invested in Invicti in 2017 and will remain a significant shareholder going forward. The transaction was announced on October 20, 2021 and is expected to close during the fourth quarter of 2021.
Transaction Highlights
Cybersecurity and DevSecOps expertise and ecosystem relationships: Invicti and Turn/River Capital were attracted to William Blair's extensive industry knowledge, deep financial sponsor and strategic investor relationships, and highly relevant transaction experience advising leading companies in the cybersecurity, DevSecOps, and infrastructure software segments.
Invicti's "First-in-class" positioning: William Blair successfully positioned Invicti as a high-growth disruptive leader in continuous application security in a large and growing market with a rare "Rule of 90" financial profile. Furthermore, the team worked closely with management to successfully position multiple vectors for continued hypergrowth that underpinned investors' high confidence in Invicti's go forward strategy driving an outlier valuation.
Trusted guidance, execution, and process excellence: William Blair designed and executed an accelerated process with thorough and robust preparation from the onset to maximize process agility and flexibility, which enabled the team to capitalize on significant counterparty engagement. The customized process design and best-in-class execution drove an exceptional outcome for Invicti.
About the Companies
Invicti Security is changing the way web applications are secured. A global leader in web application security for more than 15 years, Invicti provides dynamic and interactive application security products to help organizations in every industry scale their overall security operations, make the best use of their security resources, and engage developers to improve their overall security posture. Invicti's product Netsparker delivers industry-leading enterprise web application security, while Acunetix is designed for small and medium-sized companies. Invicti is based in Austin, Texas and serves organizations all over the world.
Founded in 1984, Summit Partners is a global alternative investment firm that is currently managing more than $42 billion in capital dedicated to growth equity, fixed income and public equity opportunities. Summit invests across growth sectors of the economy and has invested in more than 550 companies in technology, healthcare and other growth industries. These companies have completed more than 175 public equity offerings, and more than 200 have been acquired through strategic mergers and sales. Notable security software companies backed by Summit include Avast, Cloudmark, Darktrace, Delphix, Jamf, McAfee, Netwitness, NinjaRMM, RedCanary, RiskIQ, Safeboot and Winshuttle. Summit maintains offices in North America and Europe and invests in companies around the world.
Turn/River Capital is a San Francisco-based software investment firm that looks, feels, and acts like a software company. It offers flexible capital and tailored, data-driven operational support for growth capital, founder liquidity, buyouts, spin-outs and recapitalizations. Built by a team of software operators and investors who have scaled sales, marketing, customer success and talent, Turn/River's playbooks reliably and rapidly unlock transformational growth, producing market-leading companies and building lasting value.
Learn more about our technology investment banking expertise.