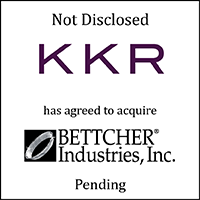 William Blair acted as the exclusive financial advisor to KKR in connection with its pending acquisition of Bettcher Industries. Bettcher Industries is a leading designer and manufacturer of cutting tools, processing systems, and aftermarket solutions for meat processing markets. The transaction signed on October 31, 2021.
Transaction Highlights
Unmatched sector expertise drove differentiated guidance: KKR leveraged William Blair's extensive knowledge and experience advising relevant food technology businesses with significant platform potential. The transaction team effectively communicated Bettcher's investment highlights and competitive differentiation – as well as potential diligence concerns and mitigants – to provide credible, third-party advice on the investment opportunity.
Deep industry relationships: The transaction team developed an expansive target list based on continuous coverage of the food technology space along with proprietary insights related to each target's expected exit timing and ability to enhance the Bettcher solution portfolio. Moreover, long-standing relationships within the sector allowed the transaction team to introduce KKR to relevant board candidates, as they look to bolster the executive leadership team.
Process strategy excellence: The transaction team worked closely with KKR to contextualize the impacts of COVID-19 and evaluate Bettcher's future platform potential; the analyses enabled KKR to submit an informed, competitive bid.
About the Companies
Founded in 1944, Bettcher Industries designs and manufactures innovative equipment and related aftermarket parts for the primary and secondary food processing, foodservice, and industrial end markets. Bettcher Group, historically the company's largest business unit, is the global market leader in rotary handheld protein trimmers. Bettcher Industries is based in Birmingham, Ohio, and has additional locations in Ohio, Georgia, North Carolina, Switzerland, Brazil, and China. The company employs over 300 individuals worldwide and sells its products in approximately 70 countries.
KKR is a leading global investment firm with more than $425 billion of assets under management. KKR has a long history of investing in market-leading businesses across sectors, economic cycles, and geographies. Since its inception, it has completed over 265 private equity transactions with approximately $510 billion of total enterprise value. KKR's various funds currently own over 100 actively managed companies, generating aggregate total revenues of over $200 billion across a wide range of industries and employing close to one million people worldwide.
Learn more about our industrial growth products investment banking expertise.