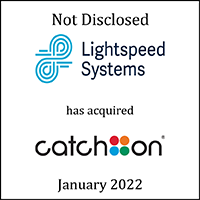 William Blair acted as the exclusive financial advisor to Lightspeed Systems (Lightspeed), a portfolio company of Madison Dearborn Partners (MDP), in connection with its acquisition of CatchOn, an affiliate of ENA. The transaction signed and closed on January 7, 2022.
About the Companies
Lightspeed is the market leader in online student safety and effectiveness with more than 20 years of providing technology to meet the needs of schools. The Lightspeed ecosystem of cloud-based solutions—tailored to meet today's evolving challenges—provides schools worldwide with the most effective web filter, student safety monitor, classroom management software, device management tool, and analytics program available. Lightspeed serves more than 20 million students in 39 countries and 32,000 schools globally.
MDP is a leading private equity investment firm based in Chicago, Illinois. Since MDP's formation in 1992, the firm has raised aggregate capital of over $28 billion and has completed over 150 investments. MDP invests across five dedicated industry verticals, including basic industries, business and government software and services, financial and transaction services, health care, and telecom, media and technology services.
CatchOn is a comprehensive data analytics tool that enables K-12 leaders to quickly and effectively calculate their return on investment of their digital tools, track student engagement at the district, school, course, and/or student level, and strengthen their data privacy compliance efforts.
ENA, a ZMC portfolio company, delivers transformative technology solutions supported by exceptional customer care. Since 1996, it has worked with customers to design and engineer high-capacity and future-ready connectivity, communication, cloud, security, and data analytics solutions.
Learn more about our technology investment banking expertise.