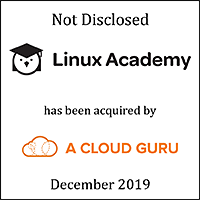 William Blair acted as the exclusive financial advisor to Linux Academy in connection with its sale to A Cloud Guru (ACG). As part of this acquisition, Bain Capital Tech Opportunities has made a significant investment in ACG, alongside participation from existing investors: Elephant, Summit Partners, and AirTree Ventures. The transaction closed on December 6, 2019.
Transaction Highlights
Unmatched experience and relationships: Linux Academy was attracted to William Blair's extensive knowledge advising founder-owned software companies, strong transaction record, and relationships with the most likely strategic and financial acquirers.
Trusted guidance: The transaction team worked closely with management in developing marketing materials, coordinating due diligence, and navigating M&A dynamics.
Process and execution excellence: Linux Academy's market leadership, strong financial profile, and compelling growth opportunities commanded strong interest from both private equity investors and strategic acquirers. William Blair was integrally involved throughout each step of the transaction process, providing guidance on M&A process strategy and valuation, coordinating due diligence with multiple parties, and negotiating favorable contract terms.
About the Companies
Linux Academy is the premier hands-on cloud training platform for all skill levels. Since 2012, Linux Academy has provided self-paced courses, access to expert training architects, a wide library of content, and real scenario-based environments for cloud mastery. Learners can train real-time in multiple, secure platforms within Linux Academy. With constantly updated information and friendly guidance to succeed, Linux Academy boasts 95% satisfaction among learners. The Linux Academy platform offers more than 200 courses, over 1,000 Hands-On Labs, and Learning Paths to guide training.
Founded in 2015 by brothers Sam and Ryan Kroonenburg, A Cloud Guru is driven by a straightforward mission—to teach the world to cloud. What began as a single cloud certification course has expanded into a rich content library and hands-on labs covering Amazon Web Services, Google Cloud Platform and Microsoft Azure cloud platforms. ACG has helped more than one million users across 196 countries acquire the skills and certifications needed to pursue meaningful careers in the cloud. The state-of-the-art learning platform helps businesses and individuals rapidly develop cloud skills, prepare for certification exams, and progress through learning paths to become gurus in specialized disciplines.
Learn more about our technology investment banking expertise.