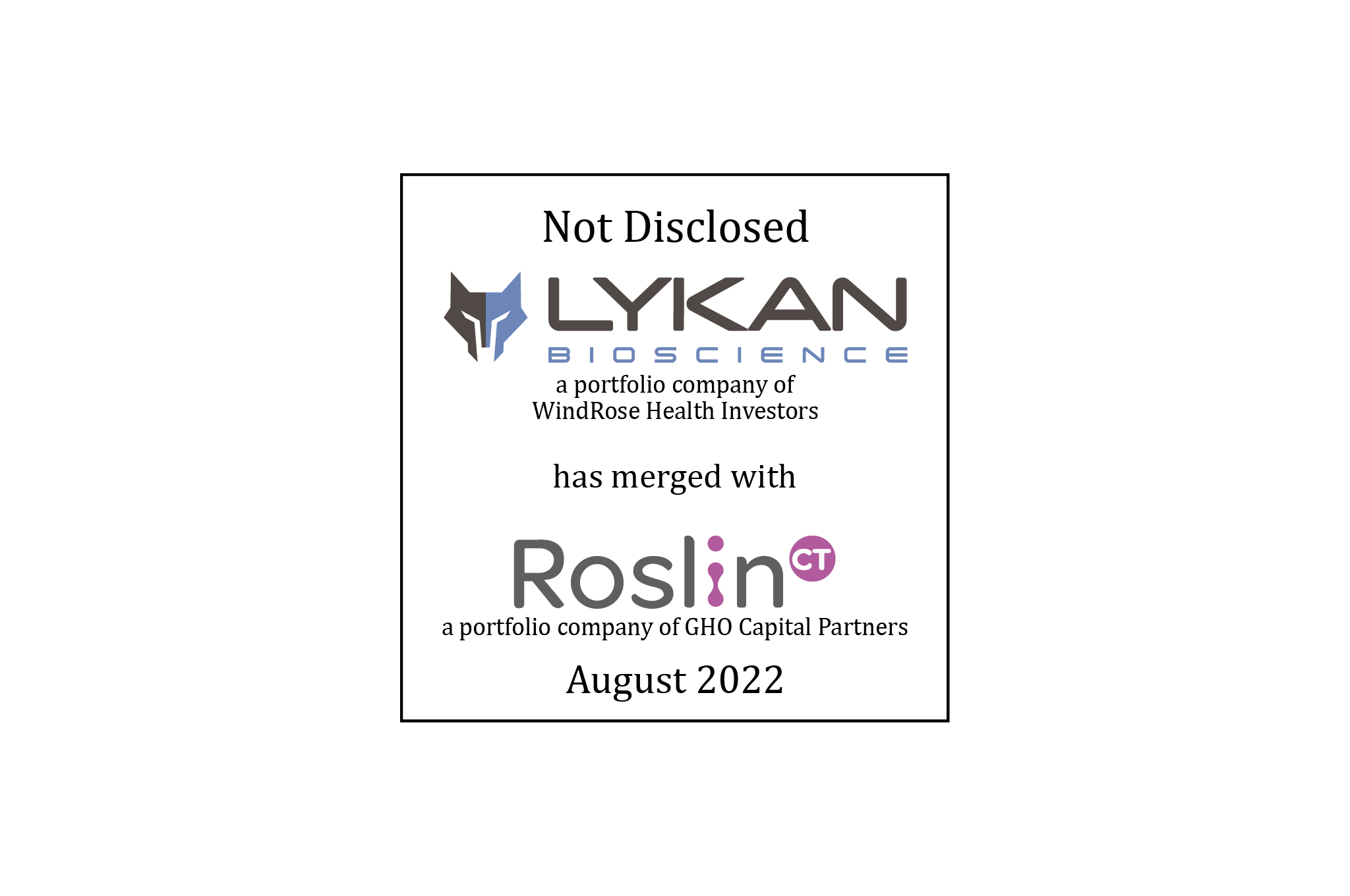 William Blair acted as the exclusive financial advisor to Lykan Bioscience, a portfolio company of WindRose Health Investors (WindRose), in connection with its merger with RoslinCT, a portfolio company of GHO Capital Partners LLP (GHO). This combination creates a global leader in process development and GMP manufacturing of advanced cell and gene therapies with a transatlantic footprint in the US and UK. This transaction marks William Blair's 10th pharma services transaction announced year-to-date and 33rd since 2021. The transaction closed on August 3, 2022.
About the Companies
Lykan Bioscience is an innovative contract development and manufacturing organization (CDMO) focused on cell-based therapies. With decades of biopharmaceutical industry experience, the company offers a full range of development and manufacturing services. The state-of-the-art, purpose-built facility offering eight independent manufacturing suites is uniquely designed to fully integrate cGMP principles and advanced software solutions to enable real-time testing and release of product. Located in Hopkinton, Massachusetts, 25 miles southwest of downtown Boston and in the proximity of four international airports, Lykan Bioscience is ideally situated to deliver life-saving cell therapy treatments to patients on behalf of their partners.
WindRose is an equity investor in companies that operate within the services sectors of the healthcare industry. The firm focuses on companies with profitable business models and a demonstrated ability to deliver cost-effective solutions. WindRose manages more than $2.6 billion in investments and is currently investing out of its fifth fund, it is based in New York City and invests in companies throughout the United States.
RoslinCT is a leading UK cell therapy contract development and manufacturing organization (CDMO) focused on providing services for companies developing cell-based therapeutic products. Originally founded in 2006 as a spin-out from the Roslin Institute, it has built on the broad range of scientific expertise available in the field of cell biology. Based at the Edinburgh BioQuarter, RoslinCT operates fully licensed GMP manufacturing facilities and has a proven track record in the delivery of cell-based products.
GHO is a leading specialist healthcare investment advisor based in London. The firm applies global capabilities and perspectives to unlock high growth healthcare opportunities, targeting Pan-European and transatlantic internationalization to build market leading businesses of strategic global value. GHO partners with strong management teams to generate long-term sustainable value, improving the efficiency of healthcare delivery to enable better, faster, more accessible healthcare.
Learn more about our healthcare services investment banking expertise.