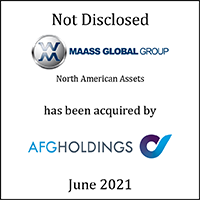 William Blair acted as financial advisor to Maass Holding GmbH (Maass) in connection with the sale of its North American assets to Ameriforge Group, Inc. (AF Global). The transaction signed and closed on June 7, 2021.
Transaction Highlights
Deep sector expertise: Maass was attracted to William Blair's industrial M&A experience and familiarity with the company's end-markets and family-oriented culture. This expertise enabled the transaction team to optimally position the business and guide the Maass family throughout the process.
Process and execution excellence: William Blair's transaction team designed a broad marketing process targeting family office, financial, and strategic buyers that offered the right fit for the company based on William Blair's sector insights and knowledge from recent sale processes. The team provided thoughtful guidance throughout a period of uncertainty resulting from COVID-19 and broader commodity market conditions, ultimately culminating in a successful outcome for shareholders.
One global team: The fully integrated and aligned transatlantic William Blair team enabled seamless service delivery execution for the client team, based out of the U.S., Germany, and the U.K.
About the Companies
Maass Global Group is a global and fully integrated, forging and machining manufacturer of stainless, alloy, and high nickel alloy flanges. They are amongst the most diversified flange manufacturers in the world by offering a complete line of material grades: in both small and large diameter sizes, combined with a full range of pressure classes. Maass was founded in 1948 in Essen, Germany by Wilhelm Maass and continues to be family owned and operated to this day. Based in Essen, Germany and Houston, Texas, the company operates six manufacturing facilities, six sales offices, and nearly 700 employees. The North American assets consist of four manufacturing facilities (Houston, TX, Sealy, TX, Acuña, MX, and London, ON) and one sales office (Mexico City, MX).
AF Global, is an oil and gas manufacturing specialist providing technology, precision engineering services and fully-integrated manufacturing capabilities to clients around the world. AFGlobal also provides equipment and capabilities to the general industrial, aerospace and power generation industries, offering a broad range of both highly-engineered and general forged products, as well as complementary aftermarket services. Based in Houston, Texas, the company operates more than 20 facilities worldwide. AF Global is owned by The Carlyle Group, First Reserve Corporation, and Stellex Capital Management.
Learn more about our industrials investment banking expertise.