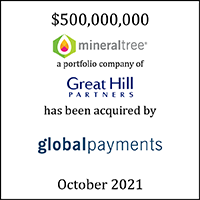 William Blair acted as financial advisor to MineralTree, a portfolio company of Great Hill Partners, in connection with its acquisition by Global Payments Inc. (NYSE: GPN) for $500 million.
Transaction Highlights
Payments sector expertise: William Blair's transaction team leveraged its extensive knowledge of the broader payments and financial software industries, specifically the B2B payments and accounts payable automation software ecosystems.
Strategic buyer knowledge: The transaction team's deep knowledge of the strategic buyer's focus areas and process behaviors were critical factors for William Blair's involvement to navigate an accelerated transaction timeline.
Long-standing sponsor relationship: William Blair has developed a strong relationship with Great Hill Partners over many years, most recently advising on the sale of Great Hill's portfolio company Rewards Gateway in 2021.
About the Companies
MineralTree provides accounts payable automation and B2B payments solutions for over 2,200 businesses in multiple verticals. The company's software streamlines the payments process by consolidating multiple payment types and integrates with many standard accounting packages, enabling clients to automate their invoice-to-pay process, simplify payments, and retain commercial customers. The firm processes roughly 17 million invoices annually and more than $110 billion in payment volume of which the company monetizes roughly $18 billion.
Great Hill Partners is a private equity and venture capital firm specializing in investments in late venture, mid venture, later stage, growth capital, buyouts, middle market, recapitalizations, PIPEs, go private, acquisitions, and industry consolidations in growth oriented private or public companies. The firm's principals have over 30 years of experience serving a broad range of technology- and service-oriented industries, having invested in more than 90 companies and arranged over $5 billion of expansion and acquisition financings.
Global Payments Inc. (NYSE: GPN) is a leading payments technology company delivering innovative software and services to customers globally. Global Payments' technologies carry out billions of transactions annually in over 100 countries.
Learn more about our technology investment banking expertise.