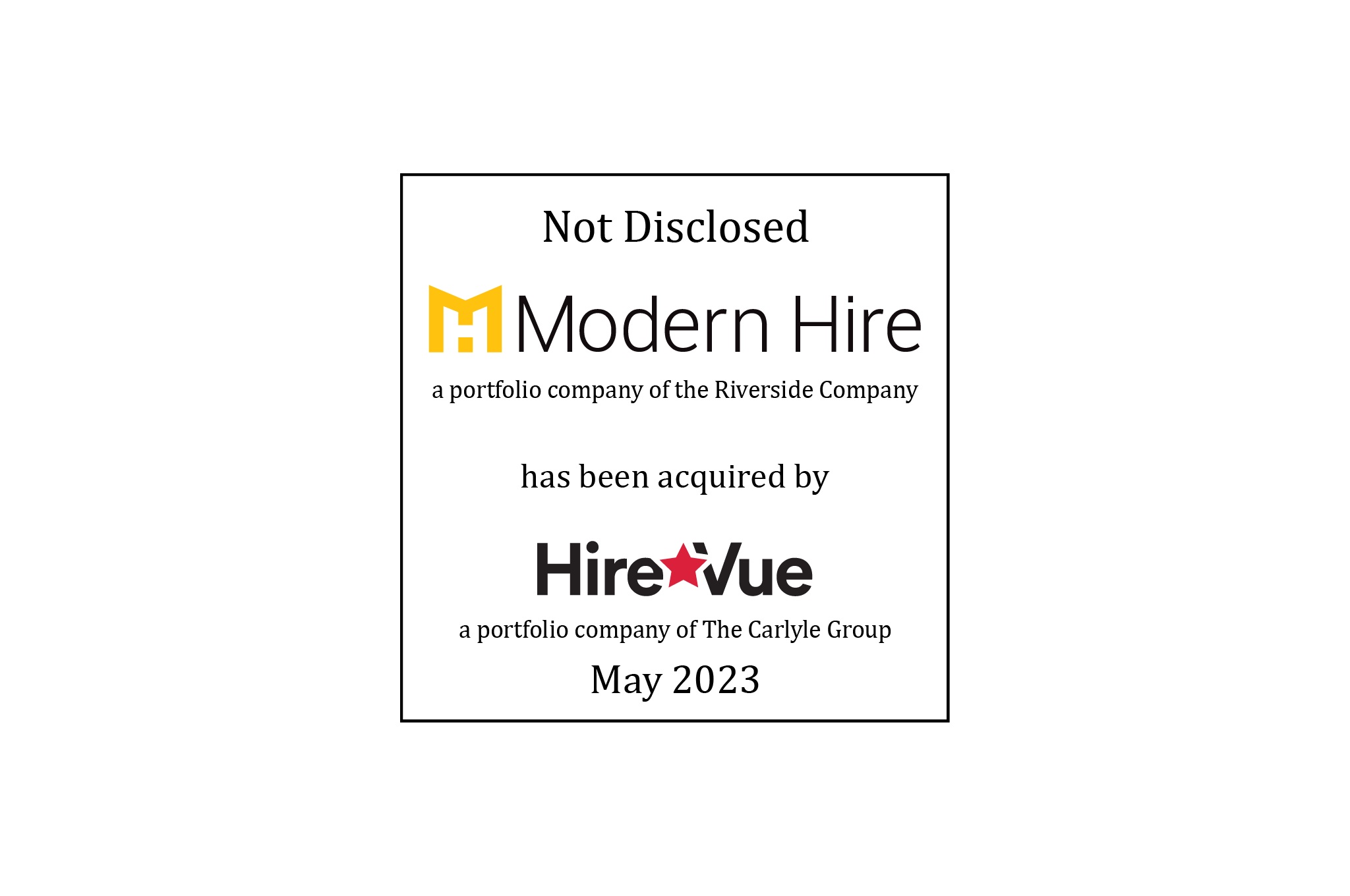 William Blair acted as the lead financial advisor to Modern Hire, a portfolio company of the Riverside Company, in connection with its acquisition by HireVue, a portfolio company of The Carlyle Group. The acquisition of Modern Hire by HireVue marks a new era in hiring, providing organizations with an easier way to realize the full benefits of the most comprehensive and innovative platform for assessment, interviewing and end-to-end hiring automation. Solidifying HireVue's position as the industry leader in modern hiring solutions powered by ethical AI, the acquisition will accelerate HireVue's ability to help all organizations identify employee and candidate potential beyond resumes. The transaction closed on May 3, 2023.
About the Companies
Modern Hire's intelligent hiring platform transforms each step of the process with screening, assessment, interview, and workflow automation tools that make hiring more effective, efficient, ethical and engaging. Modern Hire is differentiated by its advanced selection science and its commitment to the ethical use of AI and is trusted by more than 450 leading global enterprises and nearly half the Fortune 100.
The Riverside Company is a global private equity firm focused on investing in growing businesses valued at up to $400 million. Since its founding in 1988, Riverside has completed more than 850 investments. The firm's international private equity and structured capital portfolios include more than 140 companies.
HireVue is where hiring happens – transforming the way organizations discover, engage, and hire the best talent. Connecting companies and candidates anytime, anywhere, HireVue's industry leading end-to-end hiring platform features video interviewing, assessments, and conversational AI. HireVue has hosted more than 35 million video interviews and 200 million chat-based candidate engagements for over 700 pioneering customers around the globe.
The Carlyle Group (NASDAQ: CG) is a global investment firm with deep industry expertise that deploys private capital across three business segments: Global Private Equity, Global Credit and Global Investment Solutions. With $373 billion of assets under management as of December 31, 2022, The Carlyle Group's purpose is to invest wisely and create value on behalf of its investors, portfolio companies, and the communities in which we live and invest. The Carlyle Group employs more than 2,100 people in 29 offices across five continents.
Learn more about our human capital investment banking expertise.