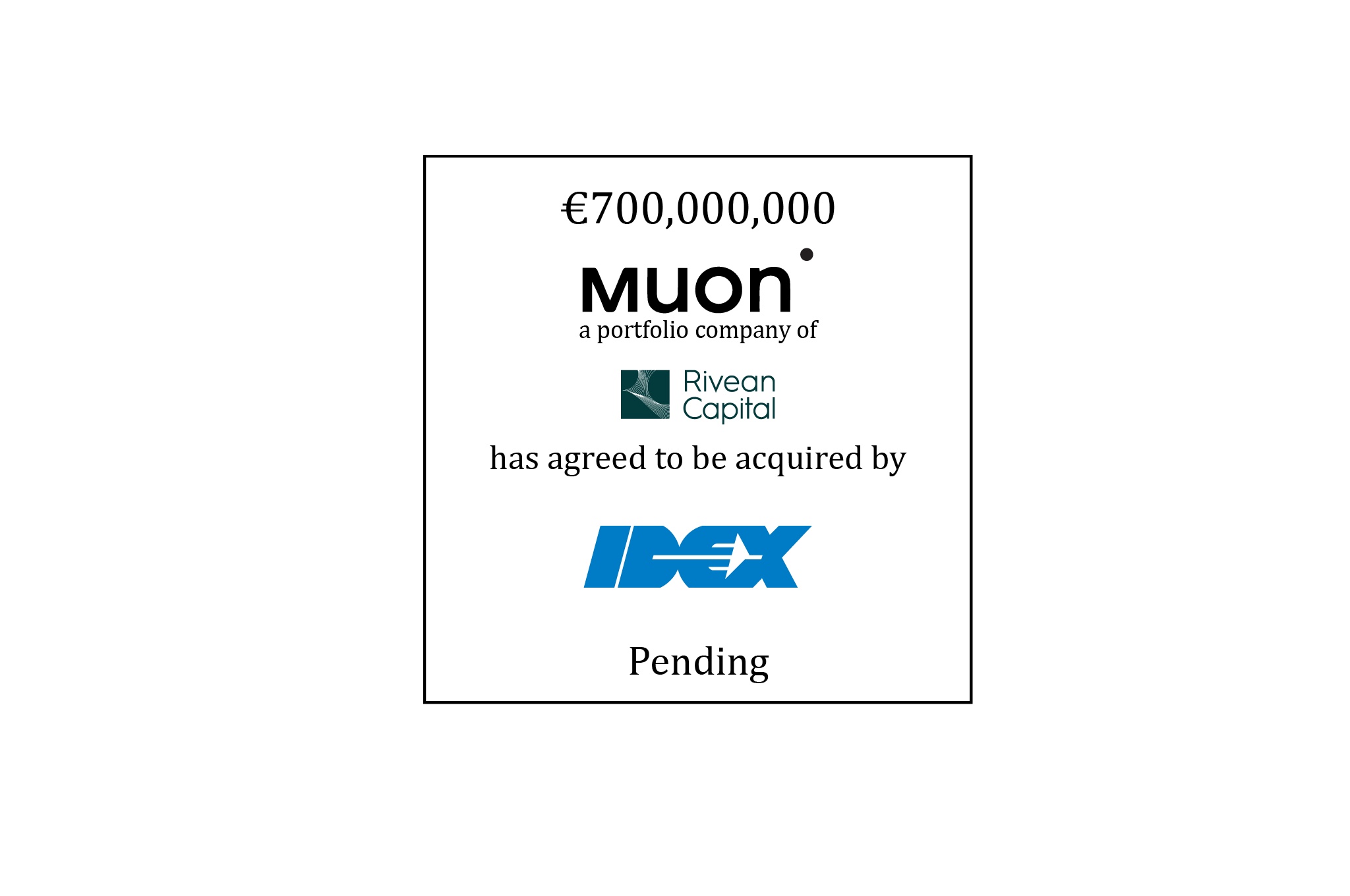 William Blair acted as the exclusive financial advisor to Muon Group B.V. (Muon Group), owned by Rivean Capital B.V. (Rivean Capital or Rivean) and management, in connection with its pending sale to IDEX Corporation (NYSE:IEX). The transaction was signed on September 13, 2022 and is expected to close in the fourth quarter of 2022, following customary approvals by regulatory authorities and completing works council consultation procedures.
About the Companies
Based in the Netherlands, Muon Group is a leading provider of micro precision solutions, developing and manufacturing components which function at the heart of end user applications in semiconductor, medical technologies, digital printing, food processing and filtration. With 580 employees, Muon Group has six dedicated technology centers of excellence in the Netherlands, the United Kingdom, and India operating under well-known industry brands Veco, LouwersHanique, Millux, Tecan, and Atul. Building on over 80 years of innovation, experience and tradition, Muon Group is trusted by some of the world's leading high-tech companies to be their solutions provider of choice when it comes to extreme accuracy challenges in metals, technical glass, advanced ceramics, and special material combinations.
Rivean Capital is a leading European mid-market private equity investor. With offices in Utrecht, Brussels, Frankfurt, Zurich, and Milan, and more than €3 billion funds under management, Rivean has supported more than 250 companies to realize their growth ambitions since 1982.
IDEX Corporation is a leading provider of highly engineered, applied industrial and technology solutions for mission-critical applications across diverse end-markets. With c.$2.8 billion in annual sales, IDEX manufactures thousands of products and components that improve everyday life all around you. IDEX operates through three business segments: Fluid & Metering Technologies, Health & Science Technologies, and Fire & Safety / Diversified Products. Based in Illinois, the U.S., IDEX's global operations consist of a portfolio of 45+ businesses operating in more than 20 countries with 8,000 employees.
Learn more about our industrial growth products investment banking expertise.