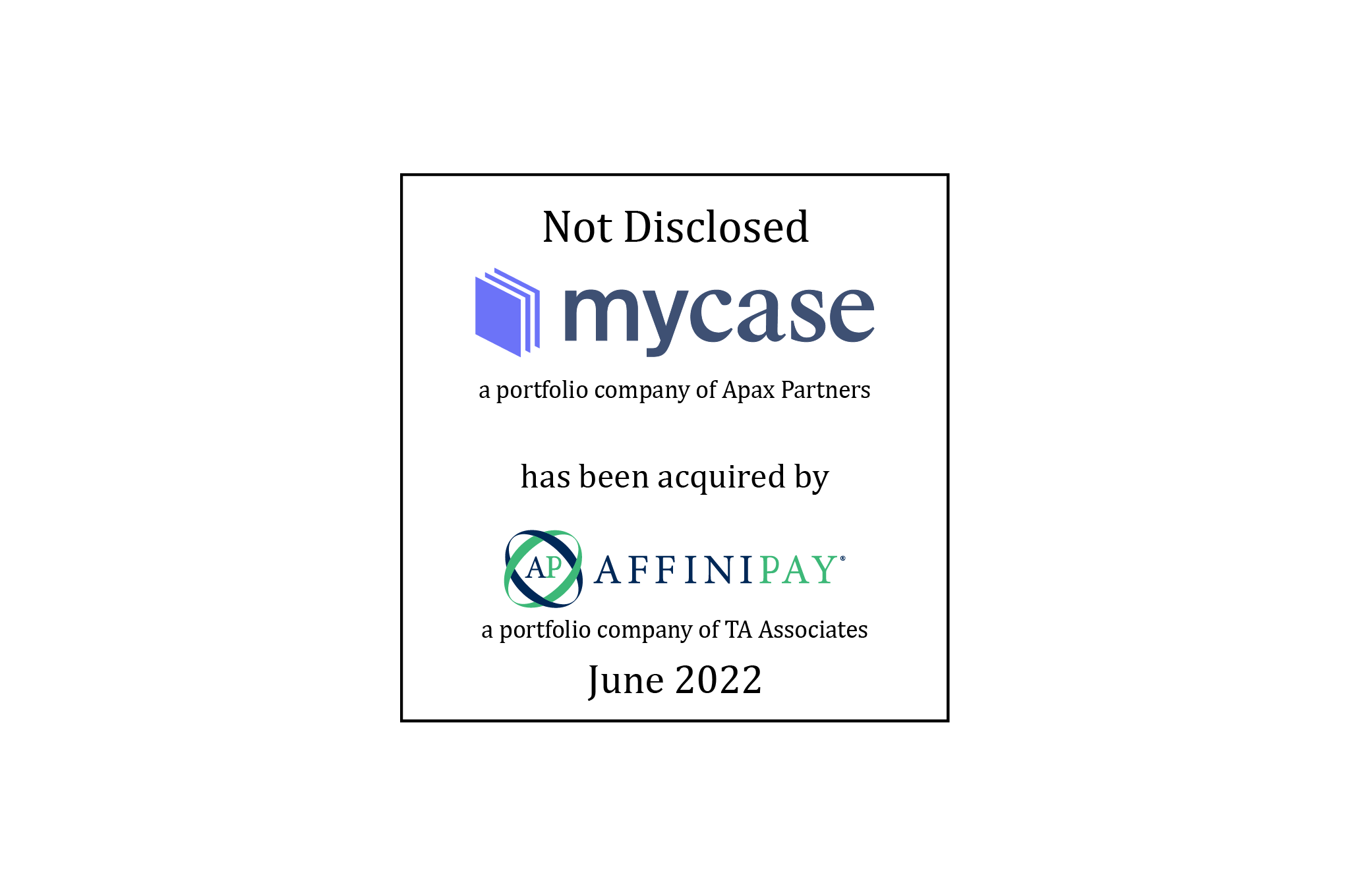 William Blair acted as the exclusive financial advisor to MyCase, a portfolio company of Apax Partners (Apax), in connection with its acquisition by AffiniPay, a portfolio company of TA Associates (TA) and the parent company of LawPay. This transformative transaction creates one of the largest and fastest-growing integrated legal practice management software and payments companies and strengthens both companies' commitments to serving law firms and their clients with best-in-class technologies. The transaction closed on June 9, 2022.
About the Companies
MyCase is the all-in-one legal practice management software designed for the modern law firm. MyCase covers the entire client lifecycle with lead management, case management, billing and invoicing, and robust reporting. It includes market-leading features such as integrated MyCase Payments, 2-way text messaging, MyCase Client Portal to centralize client communication and MyCase Drive. The MyCase family of brands includes the broadest suite of legal practice management software solutions in the industry including MyCase, CASEpeer (personal injury), Soluno (billing & accounting), DocketWise (immigration) and Woodpecker (document automation).
Apax is a leading global private equity advisory firm. For nearly 50 years, Apax has worked to inspire growth and ideas that transform businesses. The firm has raised and advised funds with aggregate commitments of more than $60 billion. The Apax Funds invest in companies across four global sectors of tech, services, healthcare, and internet/consumer. These funds provide long-term equity financing to build and strengthen world-class companies.
AffiniPay is the market leader in professional services payments serving legal, accounting, architectural, engineering and construction firms. AffiniPay has been recognized as one of Inc. 5000's fastest growing companies for 10 years in a row. Each of its brands leads the market it serves with solutions purpose-built by industry including LawPay, ClientPay, CPACharge, and AffiniPay for Associations. AffiniPay's solutions are trusted by more than 60,000 firms with more than 150 strategic partnerships and endorsements, including the American Bar Association and the American Institute of Certified Public Accountants.
LawPay was developed specifically to help law firms streamline billing and collections, providing a simple, secure solution for legal clients to pay their bills. The firm is the industry leader in legal payments, providing a cost-effective solution for more than 50,000 law firms around the country. It is available through all 50 state bars, 60-plus local and specialty bars and the ABA as a vetted and approved payment solution for the legal industry. LawPay is also the ALA's Exclusive VIP Partner for Payment Processing.
TA is a leading global growth private equity firm. Focused on targeted sectors within five industries—technology, healthcare, financial services, consumer, and business services—the firm invests in profitable, growing companies with opportunities for sustained growth, and has invested in more than 550 companies around the world. Investing as either a majority or minority investor, TA employs a long-term approach, utilizing its strategic resources to help management teams build lasting value in high quality growth companies. TA has raised $47.5 billion in capital since its founding in 1968. The firm's more than 100 investment professionals are based in Boston, Menlo Park, London, Mumbai, and Hong Kong.
Learn more about our technology investment banking expertise.