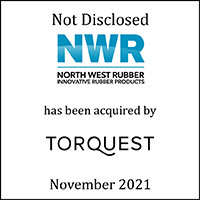 William Blair acted as exclusive financial advisor to North West Rubber (NWR) in connection with its sale to TorQuest Partners. The transaction closed on November 26, 2021.
About the Companies
North West Rubber is a leading manufacturer and distributor of recycled and virgin rubber matting and other flooring products for use in the consumer, farm, athletic facilities, and industrial end markets. The company has a workforce of over 220 employees across North America.
Founded in 2002, TorQuest Partners is a Canadian-based manager of private equity funds. With more than C$3 billion of equity capital under management, TorQuest is currently investing from TorQuest Partners Fund V, a C$1.375 billion fund that closed in March 2020. TorQuest invests in middle market companies and works in close partnership with management to build value.
Learn more about our industrial growth products investment banking expertise.