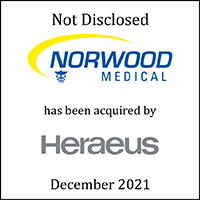 William Blair acted as exclusive financial advisor to Norwood Medical in connection with its sale to Heraeus. The transaction closed in December 2021.
About the Companies
Norwood Medical is a premier, full-service provider of advanced medical manufacturing solutions to the minimally invasive surgical (MIS), robotic-assisted surgery (RAS) and orthopedic markets. The company's legacy of expertise in complex machining dates back as far as the 1920s. Now, solely focused on medical manufacturing, Norwood has earned a reputation for tackling complex parts and projects that other contract medical manufacturers are unable to produce. Today, the company is a market leader serving blue-chip medical OEM customers across a broad range of products and applications.
Heraeus, based in Hanau, Germany, is a family-owned, global conglomerate. The company's roots go back to a family pharmacy that originated in 1660. Today, the Heraeus Group includes businesses in the environmental, electronics, health, and industrial applications sectors. Customers benefit from innovative technologies and solutions based on broad materials expertise and technological leadership. Heraeus generates more than €30 billion in revenue with approximately 14,800 employees in 40 countries. Heraeus also has a large U.S. footprint, with approximately 24% of its 2020 sales generated in America. Its Heraeus Medical Components global business unit is based in the U.S.
Learn more about our healthcare services investment banking expertise.