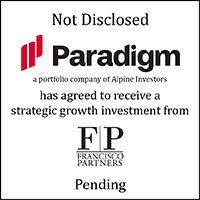 William Blair acted as the exclusive financial advisor to Paradigm, a portfolio company of Alpine Investors, in connection with its pending strategic growth investment by Francisco Partners. The transaction signed on September 24 and is expected to close in the fourth quarter of 2021.
Transaction Highlights
Deep relationships and industry expertise: Paradigm recognized William Blair's unparalleled knowledge and experience advising leading legal software and integrated payments companies, as well as strong relationships with and unique insights into the most aggressive and likely strategic and financial acquirers. This transaction marks William Blair's 4th legal software and 11th integrated payments deal in 2021.
M&A process and execution excellence: William Blair's transaction team designed and structured a high-touch, highly competitive process, leveraging its robust M&A experience to inform process and execution tactics. The team worked closely with Paradigm and Alpine to navigate rapidly evolving process dynamics, culminating in an exceptional outcome for shareholders.
Trusted guidance: The transaction team was integrally involved throughout each step of the process and closely collaborated with the management team to create highly compelling marketing materials and supporting financial analyses. The team was able to successfully position and effectively communicate the growth opportunities to a global universe of strategic and financial buyers, delivering a value-maximizing outcome.
About the Companies
Paradigm offers a suite of legal software solutions to help lawyers manage, automate, and grow their firms. With four world-class legal practice management and payments solutions—PracticePanther, Bill4Time, MerusCase, and Headnote—managed under one roof, Paradigm empowers lawyers across the spectrum of practice area, geography, and business need. The Paradigm team is unified by a common vision to build the best legal technology products in the world.
Alpine Investors is a people-driven private equity firm that is committed to building enduring companies by working with, learning from, and developing exceptional people. Alpine specializes in investments in companies in the software and services industries. Its "PeopleFirst" strategy includes a CEO program which allows Alpine to bring leadership to situations where additional or new management is needed post-transaction.
Francisco Partners is a private equity firm with offices in San Francisco, New York, and London and approximately $24 billion of capital raised to date. Francisco Partner's has invested in over 110 portfolio companies, with an investment approach tailored to provide transformational capital to technology companies facing strategic or operational inflection points.
Learn more about our technology investment banking expertise.