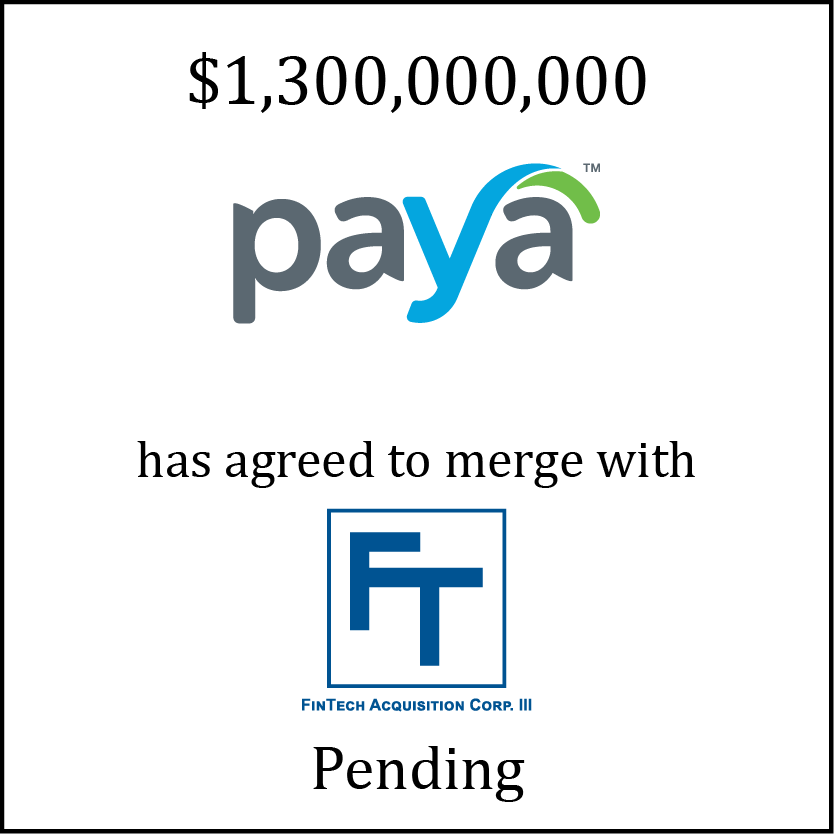 William Blair acted as financial advisor to Paya, a portfolio company of GTCR, in connection with its pending sale to FinTech Acquisition Corp. III (FinTech III), a special purpose acquisition corporation (SPAC). The transaction was announced on August 3, 2020, and is expected to close in the fourth quarter of 2020. Upon closing of the transaction, the combined company will operate as Paya and will be listed on NASDAQ under the new symbol PAYA.
Transaction Highlights
Sector expertise: Paya and GTCR were attracted to William Blair's deep knowledge of the financial technology sector, recognizing William Blair's extensive transaction experience in the integrated payments vertical, exceptional understanding of vertically-focused payments models, and strong relationships with potential strategic and financial acquirers for Paya.
Trusted guidance: William Blair served as a trusted partner by providing hands-on involvement, industry insights and relationships, intelligence on potential acquirers, and M&A process tactics.
Positioning insights: William Blair collaborated closely with management and GTCR to develop comprehensive marketing materials, prepare due diligence analyses, and optimally position Paya within the integrated payments landscape in preparation for an M&A process.
About the Companies
Paya is a leading integrated payments provider, processing over $30 billion for over 100,000 customers. Through its proprietary card and ACH platform, Paya Connect, Paya partners with software providers to deliver vertically tailored payments solutions to business customers in attractive end-markets such as B2B goods & services, healthcare, non-profit & faith-based, government & utilities, and education. Paya focuses on end-markets where electronic payments acceptance is under-penetrated and where Paya has developed differentiated product and software partnerships.
GTCR is a leading private equity firm focused on investing in growth companies in the financial services & technology; healthcare; technology, media, & telecommunications; and growth business services industries. The Chicago-based firm pioneered The Leaders Strategy™ – finding and partnering with management leaders in core domains to identify, acquire, and build market-leading companies through transformational acquisitions and organic growth. Since its inception, GTCR has invested more than $18 billion in over 200 companies.
FinTech III is a SPAC formed for the purpose of entering into a merger, capital stock exchange, asset acquisition, stock purchase, reorganization, or similar business combination with one or more businesses, with a focus on the financial technology industry. The company raised $345,000,000 in its initial public offering in November 2018 and is listed on the NASDAQ under the symbol FTAC.
Learn more about our technology investment banking expertise.