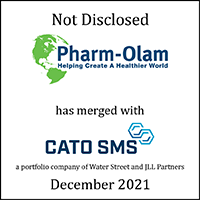 William Blair acted as the exclusive financial advisor to Pharm-Olam in connection to its merger with CATO SMS, a portfolio company of Water Street Healthcare Partners and JLL Partners. The transaction was announced on January 5, 2022.
About the Companies
Pharm-Olam is a global clinical research organization that delivers right-sized trial services to pharmaceutical, biotechnology, government, and public health organizations around the world. The company specializes in small molecule therapies and biologics in oncology-hematology, rare disease, allergy, autoimmune, infectious disease, and vaccines. Founded in 1994, with operations in 60 countries, Pharm-Olam goes the distance to create a healthier world through agile, innovative, and customized CRO solutions for Phase I-IV research.
CATO SMS is a global provider of clinical research solutions, including strategic consulting, full-service clinical trial operations, biometrics and clinical pharmacology. With more than 30 years of experience focusing on the needs of small and emerging biopharmaceutical companies, CATO SMS effectively designs and executes studies — from strategy to approval ⁠— in complex indications and modalities across a variety of therapeutic areas with a proven center of excellence in oncology. The company's regulatory, therapeutic and operational expertise enables CATO SMS to meet goals and exceed expectations.
Water Street is a strategic investor focused exclusively on the healthcare industry. The firm has a strong track record of building market-leading companies across key growth sectors and has collaborated with some of the world's leading companies on its investments. The team is comprised of industry executives and investment professionals with decades of experience investing and operating global healthcare businesses.
JLL Partners is a middle-market private equity firm with a 30-year track record. The firm focuses on executing discrete investment themes across the healthcare, industrials, and business services sectors. JLL seeks to make control equity investments in middle market companies by extricating good companies from complicated situations and bad balance sheets, or by building strong companies in partnerships with exceptional managers.
Learn more about our healthcare services investment banking expertise.