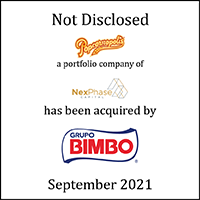 William Blair acted as financial advisor to Popcornopolis, LLC (Popcornopolis), a portfolio company of NexPhase Capital, LP (NexPhase), in connection with its sale to Grupo Bimbo, S.A.B. de C.V. (Grupo Bimbo). Popcornopolis is a leading manufacturer of premium-quality, ready-to-eat popcorn. The transaction was signed on August 11, 2021 and closed on September 17, 2021.
Transaction Highlights
Deep relationships and sector expertise: Popcornopolis and NexPhase recognized William Blair's extensive knowledge and experience advising companies in the branded, ready-for-you snacking space. Specifically, the companies recognized the transaction team's ability to articulate the compelling synergies and future growth opportunities of the combined entity.
Trusted guidance: Popcornopolis and NexPhase relied heavily on William Blair's transaction execution guidance, particularly around value maximization and certainty of closing. The deal team worked closely with Popcornopolis' management throughout each step of the transaction process, including performing financial analyses, developing marketing materials, coordinating diligence, counselling on transaction tactics, and negotiating key contract terms.
Highly-strategic transaction: The acquisition was highly-strategic for both parties and marked a significant step in further establishing Popcornopolis as the leading gourmet player in the ready-to-eat popcorn category. The acquisition propels Popcornopolis' vision to become the foremost leader in snack innovation, with the goal of delivering their delicacies to more snack-lovers across the country.
About the Companies
Popped in small batches with the finest ingredients, Popcornopolis' gourmet popcorn delivers wildly delicious, true-to-life flavors in every bite, bringing a pop of joy to their consumers. From the select popcorn kernels that are American-grown, non-GMO, and naturally gluten-free, to the real ingredients that create mouthwatering flavors, every team member at Popcornopolis pours their heart into creating high quality snacks. Popcornopolis is easily recognizable by its iconic, one-of-a-kind cone shaped packaging and its resealable pouches. The flavors range from famously indulgent Zebra®, Unicorn®, and Double Drizzle varieties to better-for-you favorites Nearly Naked and Kettle Corn. Popcornopolis products are available in Club, Food, Drug, Mass, Convenience and Direct to Consumer channels.
NexPhase Capital (NPC) is a thematic and operationally-focused private equity firm that invests in lower middle market growth-oriented companies within three distinct sectors: consumer, healthcare, and software & services. The firm partners with companies that have reached a growth inflection point and are seeking a value-add partner to help navigate the company's "next phase." The firm targets control equity investments between $25 million and $150 million. The NexPhase consumer team focuses on investing in high-growth, branded CPG companies, including Zing Zang, the leading cocktail mix brand offering a complete line of premium quality non-alcoholic mixers and spirit-based ready-to-drink cocktails, and Oliver Winery, a top 30 U.S. winery focused on approachable and flavorful wines.
Learn more about our consumer and retail investment banking expertise.