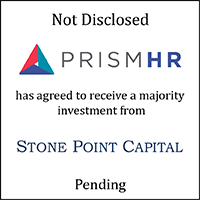 William Blair acted as the exclusive financial advisor to PrismHR, a portfolio company of Summit Partners (Summit), in connection with its pending majority investment by Stone Point Capital LLC (Stone Point). The transaction was announced on December 2, 2019. The transaction is subject to regulatory approval with an anticipated close date in late Q4 2019 or early Q1 2020.
Transaction Highlights
Deep relationships and industry expertise: PrismHR and Summit were attracted to William Blair's deep expertise in the human capital management and benefits technology spaces, highly relevant recent transaction experience, as well as extensive relationships with the most pertinent buyers.
Highly valued guidance and counsel: William Blair's transaction team designed and managed a highly targeted and efficient process and acted as a trusted partner throughout the entirety of the process.
About the Companies
PrismHR's mission is to fuel the growth of small and medium-sized businesses (SMBs) across the US. The company's HR software, combined with their ecosystem of HR service providers, enables SMBs to manage payroll, benefits, and HR, leveling the playing field with large enterprises. Today, PrismHR software delivers world-class HR services to more than 80,000 organizations and over 2 million worksite employees, processing greater than $80 billion in payroll each year. PrismHR is located in Hopkinton, Massachusetts.
Founded in 1984, Summit Partners is a global alternative investment firm that is currently managing more than $19 billion in capital dedicated to growth equity, fixed income, and public equity opportunities. Summit invests across growth sectors of the economy and has invested in more than 500 companies in technology, healthcare and other growth industries. Summit maintains offices in North America and Europe, investing in companies around the world.
Stone Point Capital LLC is a financial services-focused private equity firm based in Greenwich, CT. The firm has raised and managed eight private equity funds – the Trident Funds – with aggregate committed capital of more than $25 billion. Stone Point targets investments in companies in the global financial services industry and related sectors.
Learn more about our technology investment banking expertise.