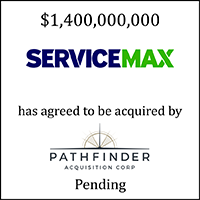 William Blair acted as capital markets advisor to ServiceMax, a portfolio company of Silver Lake Partners (Silver Lake), in connection with its pending merger with Pathfinder Acquisition Corporation (NASDAQ: PFDR; Pathfinder), a special purpose acquisition company (SPAC). The transaction was announced on July 16, 2021 and is anticipated to close in the summer of 2021. Upon completion of the transaction, the combined company will retain the ServiceMax name and will be listed on the NASDAQ Stock Exchange under the ticker symbol SMAX.
Transaction Highlights
Industry knowledge: ServiceMax was attracted to William Blair's deep knowledge of the Field Service Management and Application Software sectors, recognizing its industry thought leadership and transaction experience in the space.
Positioning expertise: William Blair's advisory and equity capital markets teams produced nuanced insights to drive a premium valuation for ServiceMax shareholders.
Trusted guidance: William Blair served as a trusted partner by providing hands-on involvement, industry insights and intelligence, strategic introductions, and process tactics.
SPAC Transaction Overview
The transaction implies a value for ServiceMax of approximately $1.4 billion on both a pre-money equity value basis and a pro forma enterprise value basis, before giving effect to the pending acquisition of LiquidFrameworks. The transaction is expected to deliver approximately $335 million of gross proceeds to the combined company from the cash held in Pathfinder's trust account, assuming no redemptions by Pathfinder shareholders, and including proceeds from a strategic common equity investment immediately prior to closing by leading software companies PTC Inc. (NASDAQ: PTC) and Salesforce Ventures at the same valuation as the business combination transaction.
The combined proceeds will be used to support the company's growth opportunities, including the acquisition of LiquidFrameworks for $145 million in cash, and for general corporate purposes.
Existing ServiceMax investors Silver Lake, Salesforce Ventures, and GE are retaining their full equity ownership in ServiceMax.
About the Companies
ServiceMax's mission is to help customers keep the world running with asset-centric field service management software. As the recognized leader in this space, ServiceMax's mobile apps and cloud-based software provide a complete view of assets to field service teams. By optimizing field service operations, customers across all industries can better manage the complexities of service, support faster growth, and run more profitable, outcome-centric businesses.
Pathfinder Acquisition Corporation (NASDAQ: PFDR) is a purpose-built partnership between affiliates of two investment firms with a strong record of success as investors in technology and tech-enabled businesses: HGGC, a leading middle-market private equity firm based in Palo Alto, and Industry Ventures, a leading multi-strategy venture capital platform based in San Francisco. Pathfinder's corporate objective is to identify and execute a business combination with a high quality, growth-oriented private company in the tech sector that Pathfinder believes can succeed as a public company and generate attractive returns for shareholders over the long term.
Learn more about our technology services investment banking expertise.