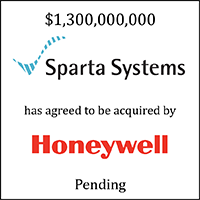 William Blair acted as financial advisor to Sparta Systems, Inc. (Sparta), a portfolio company of New Mountain Capital, in connection with its pending sale to Honeywell (NYSE: HON). The transaction was announced on December 22, 2020 and is expected to close in the first quarter of 2021.
About the Companies
Sparta is headquartered in Hamilton, N.J., and serves more than 400 customers, including 42 of the world's top 50 pharma companies and 30 of the top 40 medical device companies. Sparta's industry-leading quality management systems bring together an organization's quality processes in a single place, increasing efficiency and performance while helping to achieve compliance and reduce risk. Sparta is the provider of TrackWise® enterprise QMS software and TrackWise Digital® service, a next-generation, cloud and digital QMS SaaS platform.
New Mountain Capital is a New York-based investment firm that emphasizes business building and growth, rather than debt, as it pursues long-term capital appreciation. The firm currently manages private equity, public equity, and credit funds with $28 billion in assets under management. New Mountain seeks out what it believes to be the highest quality growth leaders in carefully selected industry sectors and then works intensively with management to build the value of these companies.
Honeywell is a Fortune 100 technology company that delivers industry specific solutions that include aerospace products and services; control technologies for buildings and industry; and performance materials globally. Honeywell's technologies help everything from aircraft, buildings, manufacturing plants, supply chains, and workers become more connected to make the world smarter, safer, and more sustainable.
Learn more about our technology investment banking expertise.