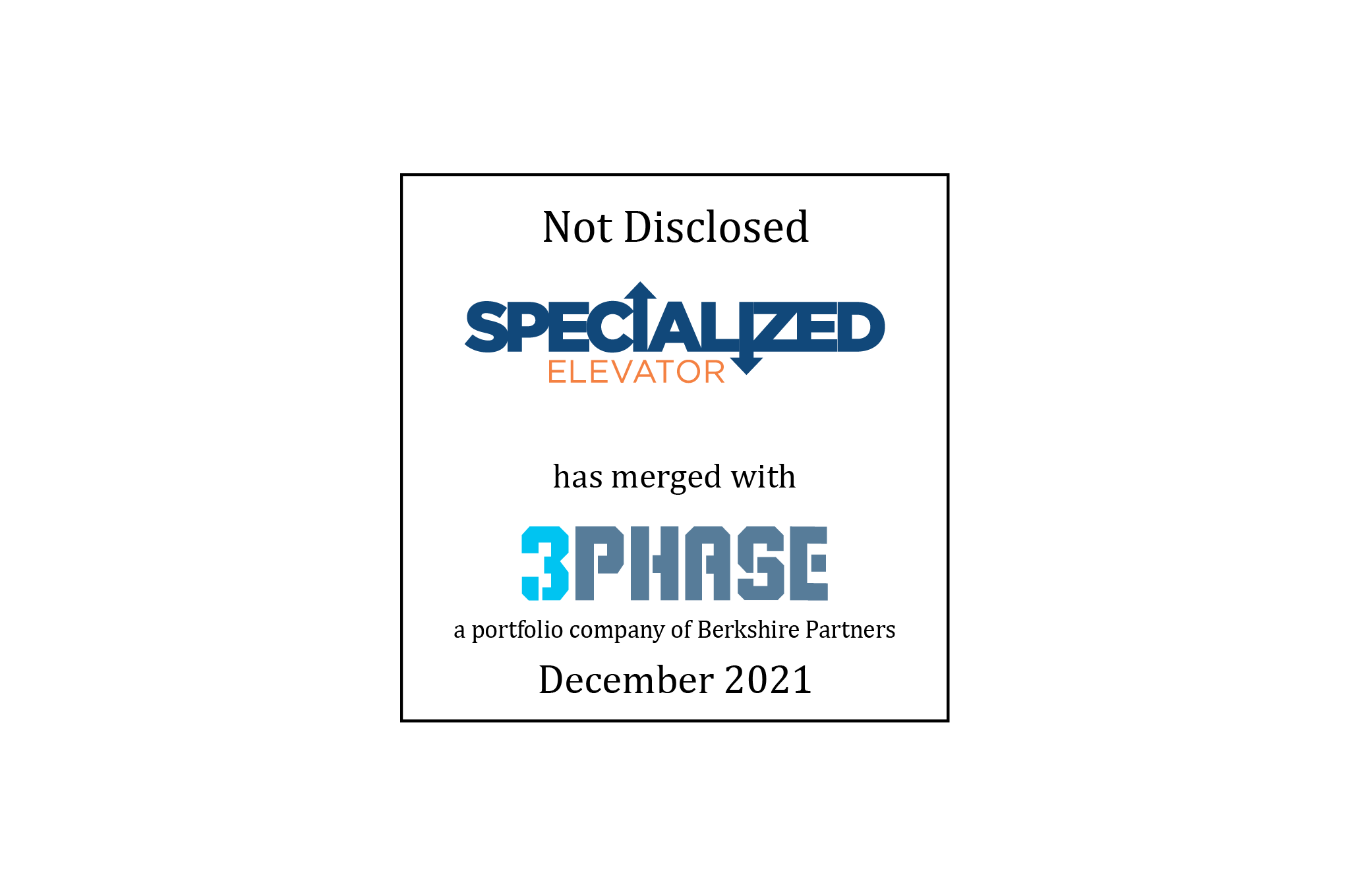 William Blair acted as the exclusive financial advisor to Specialized Elevator (Specialized) and CIVC Partners in connection with its merger with 3Phase Elevator, a portfolio company of Berkshire Partners. The transaction closed on December 21, 2021.
Transaction Highlights
Deep sector knowledge and client relationship: CIVC Partners and Specialized were attracted to William Blair's deep institutional knowledge in the facility services space and highly relevant transaction experience.
Positioning expertise: William Blair's transaction team successfully articulated Specialized's scarcity value as the preeminent independent provider of mission-critical vertical transportation solutions in the most attractive West Coast markets.
Execution excellence: William Blair's deep M&A expertise and guidance enabled a successful outcome for shareholders.
About the Companies
Specialized Elevator Services Holdings was formed through the recapitalization of San Francisco Elevator, Ascent Elevator, and Specialized Elevator in 2019 to create a leading independent provider of elevator maintenance, repair, and modernization services in California and one of the largest independent providers in the country. With offices in the Bay Area, Los Angeles, and San Diego, Specialized provides its services to the three largest metropolitan areas in California covering 90% of the state's elevator units.
CIVC Partners is a Chicago-based private equity firm investing in high growth middle market companies in the business services sector. Since 1989, the team has invested approximately $1.9 billion in 71 platform companies and currently invests from CIVC Partners Fund VI.
Founded in 1997 and based in Canton, Massachusetts, 3Phase Elevator is a leading independent provider of elevator and escalator maintenance, repair, and modernization services across 18 states and the District of Columbia. The company has grown in part through 13 acquisitions of other independent elevator and escalator services providers, including 10 over the past year. 3Phase maintains more than 20,000 units for building owners and property managers. The company is built on a foundation of exceptional customer service.
Berkshire Partners, a Boston-based investment firm, has been investing in well-positioned, growing companies for more than 35 years. Berkshire Private Equity has made more than 145 private equity investments since its inception and has a strong history of partnering with management teams to grow the companies in which it invests. Stockbridge, founded in 2007, seeks to make public equity investments in high-quality companies with strong competitive positions and long-term growth prospects. The firm's Stockbridge and private equity teams frequently collaborate and leverage their collective industry expertise in multiple areas, including in communications and digital infrastructure, consumer, healthcare, technology, and services and industrials.
Learn more about our supply chain, commercial services & technologies investment banking expertise.