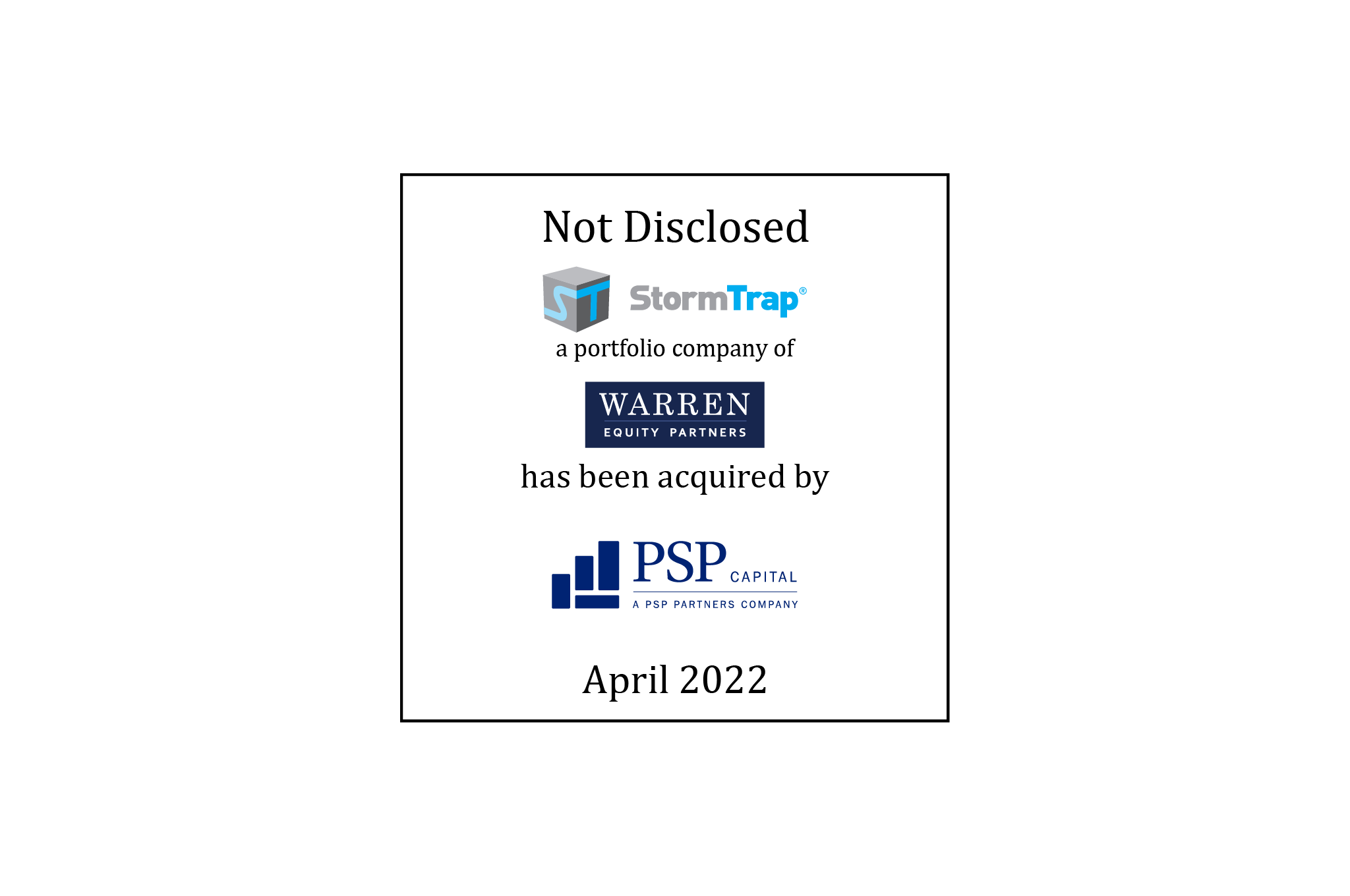 William Blair acted as the exclusive financial advisor to StormTrap, a portfolio company of Warren Equity Partners, in connection with its sale to PSP Capital. The transaction was announced on April 6, 2022.
About the Companies
StormTrap provides stormwater management solutions to the municipal, commercial, industrial, and residential markets. StormTrap designs, engineers and licenses stormwater detention systems that control the volume and discharge timing of stormwater runoff. StormTrap can customize products based on size constraints, water treatment objectives, and local regulatory requirements. Additionally, the StormTrap offers water quality systems that remove pollutants and contaminants from stormwater runoff. StormTrap's differentiated and patented offering provides pragmatic design solutions intended to maximize stormwater volume, improve water quality, and reduce the footprint.
Warren Equity Partners is a private equity firm that invests in lower middle-market companies primarily in North America. The firm invests in established companies where additional capital and operating resources can accelerate growth, targeting companies in the industrial services, industrial products, business services, and distribution sectors. Warren Equity Partners invests in the form of buyouts, growth equity and recapitalizations.
PSP Partners is a Chicago-based private investment firm founded by its Chairman, Penny Pritzker, an entrepreneur, civic leader, philanthropist, and former U.S. Secretary of Commerce. The firm is focused on partnering with entrepreneurs, business owners, and management teams to build market-leading businesses and develop valuable assets. With investment strategies focused on established businesses, emerging/growth companies, and real assets, the company invests across stages and asset classes that are well-aligned with its expertise and experience, with a primary emphasis on business and technology services, advanced industrials, and real estate.
Learn more about our industrial growth products and supply chain, commercial services & technologies investment banking expertise.