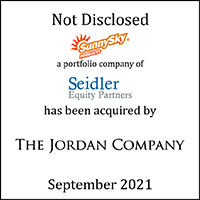 William Blair acted as the exclusive financial advisor to Sunny Sky Products (Sunny Sky), a portfolio company of Seidler Equity Partners, in connection with its acquisition by The Jordan Company. The transaction closed on September 20, 2021.
About the Companies
Sunny Sky is a leading producer of dispensed beverage solutions, offering hot, cold, frozen, and beverage enhancer products for the convenience store and foodservice industry. Sunny Sky's products include specialty coffee and hot chocolates, fountain drinks, slushies, sweeteners, smoothies, energy drinks and teas. Sunny Sky employs approximately 200 team members across two best-in-class manufacturing facilities at their headquarters in Houston, TX as well as Tinley Park, IL.
Seidler Equity Partners and its affiliates have been investing in market-leading companies since 1992. Seidler aligns with business founders and management teams to achieve long-term growth objectives while preserving company culture. Headquartered in Marina del Rey, California, Seidler also has an office in Sydney, Australia and currently has over $3.0 billion of assets under management.
The Jordan Company, founded in 1982, is a middle-market private equity firm that manages funds with original capital commitments in excess of $16 billion with a 39-year track record of investing in and contributing to the growth of many businesses across a wide range of industries. The senior investment team has been investing together for over 20 years, and they are supported by the Operations Management Group, which was established in 1988 to initiate and support operational improvements in portfolio companies. Headquartered in New York, TJC also has offices in Chicago.
Learn more about our consumer and retail investment banking expertise.