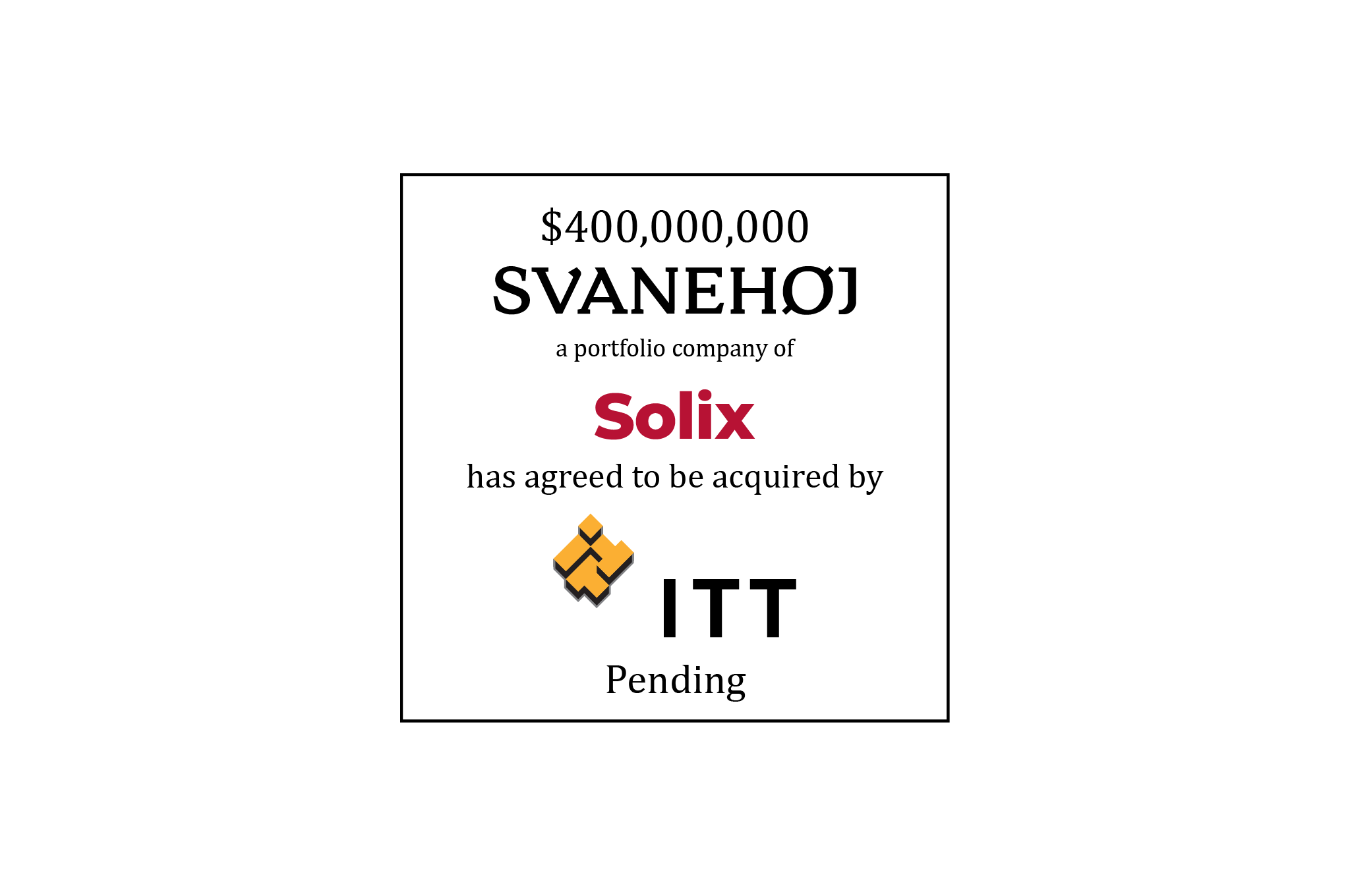 William Blair acted as the exclusive financial advisor to Svanehøj Group A/S (Svanehøj), a portfolio company of Solix Group AB (Solix), in connection with its pending sale to ITT Inc. (NYSE:ITT) for a total enterprise value of approximately $400 million. The transaction was signed on November 1, 2023 and is expected to close in the first quarter of 2024.
About the Companies
Based in Svenstrup, Denmark, Svanehøj is a supplier of pumps and related aftermarket services with leading positions in cryogenic applications for the marine sector. The company is a critical facilitator of the green transition through its renowned product portfolio, which primarily consists of deepwell gas cargo pumps, fuel and energy pumps, and tank control systems, all designed to enable the shift to low- and zero-emission fuels. These products manage critical liquids for the energy transition, including liquid natural gas (LNG), ammonia, methanol, hydrogen, and CO2, and are widely regarded as the highest quality offering across most verticals. Svanehøj also has an established global aftermarket business to service its large installed base and is capable of servicing third-party equipment as well. The company was founded in 1928 and employs about 400 professionals.
Solix is a leading Scandinavian mid-market investment company with offices in Copenhagen, Malmö, and Stockholm. The firm primarily invests in international companies based in Northern Europe, across a diverse set of industrial sectors, and acquires and develops companies that have a clear potential to deliver sustainable shareholder value.
ITT is a diversified leading manufacturer of highly engineered critical components and customized technology solutions for the transportation, industrial, and energy markets. Building on its heritage of innovation, the company partners with its customers to deliver enduring solutions to key industries. ITT is based in Stamford, Connecticut, with roughly 10,000 employees across more than 35 countries and sales in about 125 countries.
Learn more about our industrial growth products investment banking expertise.