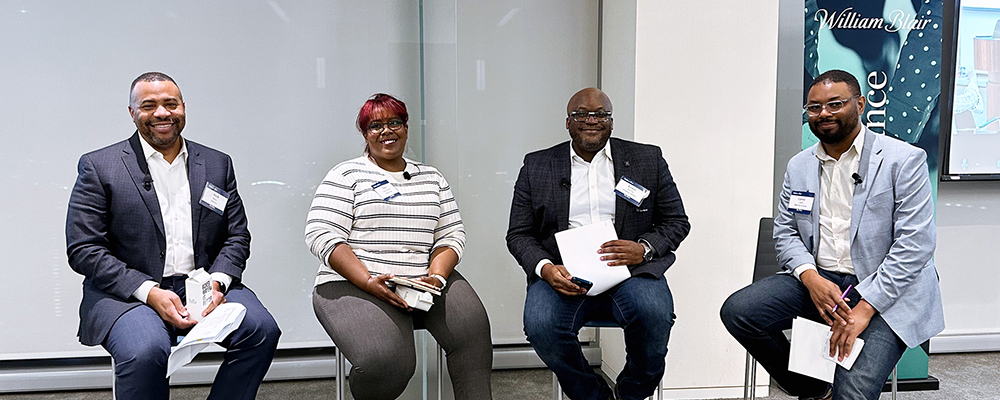 William Blair hosted an insightful discussion for financial professionals on the challenges and opportunities that members of the Black and LGBTQ+ communities face in the financial services industry in partnership with Out in Finance, a network of LGBTQ+ individuals working across the finance sector.
The event was held at William Blair's headquarters in Chicago on February 15 in recognition of Black History Month. The conversation, Diverse Perspectives, featured the insights of three Black LGBTQ+ senior finance professionals, who shared their wisdom from advancing their careers in an industry that traditionally has been dominated by white males.
The panelists shared their perspectives on intersectionality, acknowledging that everyone has their own experiences of discrimination that can marginalize people, and how they, at times, adapted by code switching, adjusting their language, behavior, and appearance to fit in and be accepted.
Leaning In
Panelist Lewis Warrick, chief financial officer at Chicago's Goodman Theatre, says that in the two decades he has served as CFO and leading finance committees for different nonprofits, he has been the only Black committee member.
"It's difficult but you learn to walk in it," Warrick told the group. "I probably overcompensated in my attitude. I had to always present myself as more than the normal. I had to walk in and say this is the way we are going to do it, I could not have emotion, I had to make sure I stood in the space and had to tell myself that I was the smartest and best."
Others on the panel had similar experiences and found ways to lean in and overcome barriers. What helped were allies or "allyship"—supportive colleagues who used their influence to advocate for them when they were not included in a conversation or a meeting.
Nick Bruce, a senior vice president at Wintrust, shared a story from early in his career when he was rising in the ranks of the bank he worked for in Texas. His boss was an older white man who advocated for Bruce, pushing leadership to promote him.
"It made me feel good because he was in that room for me," Bruce says. "In my new company at Wintrust I get that from my new boss. She wants to see everybody succeed but she's also the one who is going to be the one to fight for you in a room. It makes me want to work harder for that person as well."
BRGs as Allies
In the spirt of allyship, Toya Garcia-Bradow, a senior ESG associate with William Blair, advocated for workplace business resource groups (BRGs) and employee resource groups (ERGs) to cultivate supportive cultures for each other.
At William Blair, there are four BRGs—Pride Alliance, ONE Alliance, Women's Alliance, and Veterans' Alliance—established for colleagues to connect and support initiatives to advance diversity, equity, and inclusion in the workplace and their communities. A few years ago, the groups realized they were working across purposes and formed an Alliance Board, consisting of the BRGs co-chairs, to better align and strengthen the missions of all, says Garcia-Bradow, who serves as a co-chair of Pride Alliance.
The evening's event was a great example, she adds, with William Blair's Pride Alliance and ONE Alliance leading the firm's participation. The synergy between the groups also has been an opportunity to listen and learn from one another.
"We have something to gain by lifting each other up and being in community with each other," Garcia-Bradow says.