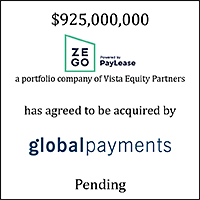 William Blair acted as lead financial advisor to Zego, a portfolio company of Vista Equity Partners, in connection with its pending acquisition by Global Payments Inc. The transaction was announced on May 4, 2021 and is expected to close by the end of the second quarter of 2021.
Transaction Highlights
Unparalleled industry insights and buyer relationships: The transaction team's deep domain expertise across areas relevant to Zego, including fintech / payments and real estate software, allowed them to best position Zego as an industry leader in the real estate payments ecosystem. In addition, a deep understanding of the most relevant strategic buyers in the space drove an exceptional outcome for Zego shareholders.
Trust-based relationship and guidance: William Blair has maintained a long-standing partnership with Vista Equity Partners and has also nurtured a relationship with key members of the Zego management team, after working with them on a prior successful transaction. Further, the William Blair team has trusted relationships with and access to pertinent strategic acquirers.
Execution and process excellence: William Blair designed and executed a tailored M&A process with thorough and robust preparation at the onset to maximize process agility and flexibility, which enabled the transaction team to capitalize on significant buyer engagement and accelerated process dynamics. The team collaborated seamlessly with management and the Vista team, advising them throughout the transaction.
About the Companies
Zego (Powered by PayLease) is a property technology company that frees management companies and community associations to go above and beyond for residents through resident experience management solutions. Zego enables operators in the residential real estate industry to modernize their resident experience, boosting satisfaction and operational efficiency. From payments and utilities to communications and smart devices, everything seamlessly integrates into the property management back-end system.
Global Payments Inc. (NYSE: GPN) is a leading pure play payments technology company delivering innovative software and services to customers globally. Global Payments' technologies, services, and employee expertise enable them to provide a broad range of solutions that allow customers to operate their businesses more efficiently across a variety of channels around the world. Based in Georgia with nearly 24,000 employees worldwide, Global Payments is a member of the S&P 500 with worldwide reach spanning over 100 countries throughout North America, Europe, Asia Pacific, and Latin America.
Learn more about our technology investment banking expertise.