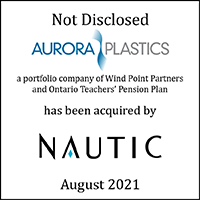 William Blair acted as the lead financial advisor to Aurora Plastics, a portfolio company of Wind Point Partners and Ontario Teachers' Pension Plan, in connection with its sale to Nautic Partners. The transaction closed on August 10, 2021.
Transaction Highlights
Deep sector knowledge: Aurora Plastics, Wind Point, and Ontario Teachers' valued William Blair's expertise in the specialty materials space with over 25 transactions completed in the specialty materials sector over the last five years.
Successful positioning: William Blair clearly articulated Aurora's leading market position and the fundamental drivers of the company's above-market growth. Aurora Plastics' focus on innovation, highly automated manufacturing processes, material margin management capabilities, and long-list of actionable growth opportunities coupled with an exceptional management team, enabled the creation of a highly compelling positioning story.
Process and execution excellence: William Blair's transaction team designed a customized marketing process that focused on a group of priority financial and strategic buyers based on insights from recent specialty materials processes. The strong, competitive process dynamics prompted multiple parties to complete all diligence prior to the rebid date and communicate their readiness to sign a purchase agreement within 24 hours. Competitive tension further resulted in a significant valuation increase, driving a premium outcome for Aurora Plastics.
About the Companies
Based in Streetsboro, Ohio, Aurora Plastics is a fast-growing provider of custom, specialty polymer compounds with expertise across flexible and rigid PVC, TPE, TPO, and other engineered materials for various markets, including building & construction, industrial, consumer, and wire & cable. Aurora provides industry-leading quality and service, making their material solutions the preferred choice for the applications in which they serve.
Wind Point Partners is a Chicago-based private equity investment firm with approximately $4 billion in assets under management. Wind Point focuses on partnering with top caliber management teams to acquire well-positioned middle market businesses where it can establish a clear path to value creation. The firm targets investments in the consumer products, industrial products, and business services sectors. Wind Point is currently investing out of Wind Point Partners IX, a $1.5 billion fund that was initiated in 2019.
Ontario Teachers' Pension Plan is Canada's largest single-profession pension plan, with over $220 billion in net assets as of December 31, 2020. It holds a diverse global portfolio of assets, approximately 80% of which is managed in-house. Ontario Teachers' is an independent organization based in Toronto, Ontario.
Nautic is a middle-market private equity firm that focuses on three industries: healthcare, industrials, and services. Nautic has completed over 140 platform transactions throughout its 35-plus year history. Nautic's strategy is to partner with management teams to accelerate the growth trajectory of its portfolio companies via add-on acquisitions, targeted operating initiatives, and increased management team depth. Nautic generally makes equity investments of $50 million or more.
Learn more about our industrial growth products investment banking expertise.