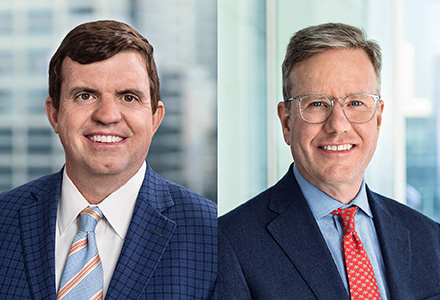 William Blair's John Cultra and Tom Wilson were named to Barron's Top 100 Financial Advisors in America list released on April 18.
Both are partners of the firm and have been recognized as top 100 advisors in past years by the magazine. This was the fifth year Cultra was honored and the third year for Wilson. Each has more than 20 years of experience within the financial industry at William Blair. The Cultra team was also named a Top 50 Private Wealth Advisory Team for the second consecutive year.
Cultra, Wilson, and their teams serve high-net-worth individuals and families, foundations and endowments on investing and financial planning.
"This honor recognizes the unwavering commitment John, Tom, and their teams have to serving clients," said Ryan DeVore, William Blair's global head of private wealth management. "It is a great achievement to see their consistency in making this elite list and underscores the financial expertise of William Blair wealth advisors. This is particularly valuable during periods of market volatility."
The ranking draws on data that includes the volume of assets overseen by the advisors and the quality of the advisors' practices.
Cultra and Wilson were among the seven William Blair wealth advisors recognized by Barron's in March as top state advisors. Steve Elkins, Bob Fix, Dan Grant, and Louise Lane were included in the state list.
Barron's 2020 Top 100 Financial Advisors
Barron's 2020 Top 50 Private Wealth Management Teams