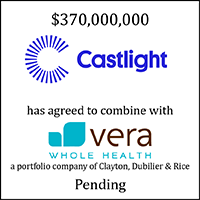 William Blair acted as the exclusive financial advisor to Castlight Health, Inc. (Castlight) (NYSE: CSLT) on its pending combination with Vera Whole Health, Inc., a portfolio company of Clayton, Dubilier & Rice. The transaction valued Castlight at approximately $370 million of equity value and was announced on January, 5, 2022. The transaction is expected to close in the first quarter of 2022.
Transaction Highlights
Deep sector knowledge and client relationship: William Blair's long-standing, trusted relationship with Castlight has developed over many years and interactions. Castlight was attracted to William Blair's deep institutional knowledge in the healthcare navigation space and highly relevant transaction experience.
Trusted guidance: The transaction team was integrally involved throughout each step of the transaction process, collaborating closely with management and Board of Directors in analyzing strategic alternatives, developing marketing materials, coordinating due diligence, and thoughtfully determining process tactics and strategy.
Process and execution excellence: William Blair's significant public company advisory and M&A expertise was highly valued by Castlight's management team and Board of Directors as they navigated the sale process.
About the Companies
Castlight is on a mission to make it as easy as humanly possible for people to navigate the healthcare system and live happier, healthier, more productive lives. As a leader in healthcare navigation, Castlight provides a world-class digital platform with a team of clinical and benefits experts to help members easily connect and engage with the right programs and care, at the right time. Castlight partners with Fortune 500 companies and health plans to transform employee and member benefits into one comprehensive health and wellbeing experience to deliver better health outcomes and maximize returns on healthcare investments.
Vera Whole Health (Vera) is leading the critical shift to value-based care across the United States. Vera is the only care model with the capability to deliver whole system health to a diverse patient population from a single care center. The Vera model is uniquely designed to help people achieve optimum social, psychological, and physical well-being – an outcome that's neither probable nor affordable within the current sick-care system.
Clayton, Dubilier & Rice is a private investment firm with a strategy predicated on building stronger, more profitable businesses. The firm's core industries for investment are healthcare, consumer/retail, technology/business services, and industrials. Since inception, CD&R has managed the investment of more than $40 billion in over 100 companies with an aggregate transaction value of more than $175 billion. The Firm has offices in New York and London.
Learn more about our healthcare IT investment banking expertise