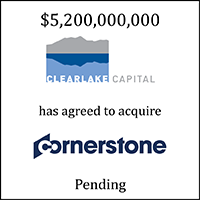 William Blair acted as a financial advisor to Clearlake Capital Group, L.P. (Clearlake) in connection with its pending acquisition of Cornerstone OnDemand (NASDAQ: CSOD) (Cornerstone). The transaction was announced on August 5, 2021.
Transaction Highlights
Nexus of connections in technology ecosystem: William Blair introduced Clearlake to Phil Saunders, the current CEO of Cornerstone, during the Saba Software sale process. William Blair subsequently sold Saba to Cornerstone in 2020, and Phil eventually became CEO of the parent.
Long-standing relationship and guidance: William Blair has developed a strong and trusted relationship with Clearlake over the course of many years.
About the Companies
Founded in 2006, Clearlake Capital Group, L.P. is an investment firm operating integrated businesses across private equity, credit, and other related strategies. With a sector-focused approach, the firm seeks to partner with experienced management teams by providing patient, long term capital to dynamic businesses that can benefit from Clearlake's operational improvement approach, O.P.S.® The firm's core target sectors are technology, industrials, and consumer. Clearlake currently has approximately $35 billion of assets under management, and its senior investment principals have led or co-led over 300 investments. The firm has offices in Santa Monica and Dallas.
GlobalTranz is a full-service third-party logistics provider, bringing award-winning customer service, exceptional industry expertise and market-leading technology to shippers, carriers, and logistics service providers. GlobalTranz's people-powered approach combined with comprehensive, relationship-driven support provides shippers of all sizes with fast and reliable, multi-modal transportation services as well as strategic supply chain solutions – enabling them to optimize efficiency and deliver on business goals. Leveraging its extensive independent agent network, GlobalTranz has emerged as a fast-growing market leader with a customer base of over 1 million product users and 25,000 shippers.
Cornerstone is a premier people development company. They believe people can achieve anything when they have the right development and growth opportunities. They offer organizations the technology, content, expertise, and specialized focus to help them realize the potential of their people. Featuring comprehensive recruiting, personalized learning, modern training content, development-driven performance management, and holistic employee data management and insights, Cornerstone's people development solutions are used by more than 6,000 customers of all sizes, spanning more than 75 million users across over 180 countries and nearly 50 languages.
Learn more about our technology investment banking expertise.