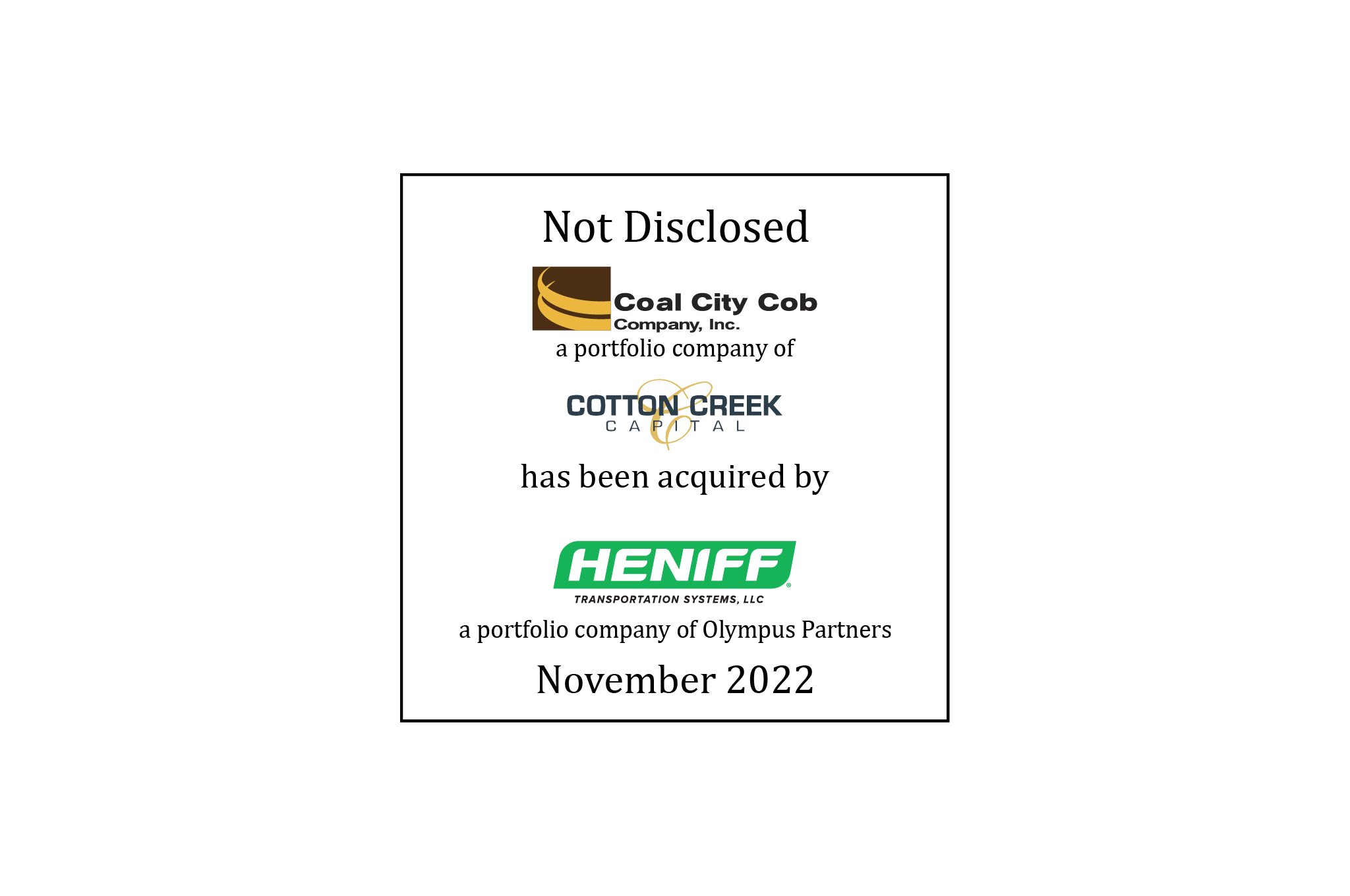 William Blair acted as the exclusive financial advisor to Coal City Cob Company, Inc. (Coal City Cob or the company), a portfolio company of Cotton Creek Capital, in connection with its sale to Heniff Transportation Systems, LLC (Heniff), a portfolio company of Olympus Partners. The transaction closed on November 2, 2022.
About the Companies
Based in Waxahachie, Texas, Coal City Cob was founded in 1970 and today provides liquid bulk transportation services to the chemical and hazardous waste industries through its nationwide network of nine terminals, including a centrally located 27-acre facility in Waxahachie integrating rail-to-truck transfer, fleet maintenance, and tank wash capabilities.
Based in Austin, Texas, Cotton Creek Capital is an operationally focused private equity firm that focuses on investing in and growing lower middle market companies in manufacturing, infrastructure services, specialty chemical, building products, food and beverage and industrial services sectors. The firm targets businesses with EBITDA between $5 million and $15 million, investing in situations ranging from buyouts, recapitalizations, buy-and-builds to corporate divestitures. Cotton Creek Capital partners with exceptional management teams, collaborating to develop a focused vision and execution plan based on company-specific objectives. Cotton Creek Capital's senior investment professionals have extensive experience investing in privately held businesses with an active approach that enables the firm to work in concert with management teams to build market-leading businesses.
Based in Oak Brook, Illinois, the Heniff family of companies is North America's premier leader in liquid bulk transportation services. Heniff operates roughly 2,000 tractors and 5,000 trailers through a network of more than 100 locations with expertise in chemical transport, food-grade transport, rail transloading, ISO depot operations, equipment maintenance, tank cleaning services, and logistics.
Founded in 1988, Olympus Partners is a private equity firm focused on providing equity capital for middle market management buyouts and for companies needing capital for expansion. Olympus is an active, long-term investor across a broad range of industries including business services, consumer products, healthcare services, financial services, industrial services, and manufacturing. Olympus manages in excess of $8.5 billion mainly on behalf of corporate pension funds, endowment funds and state-sponsored retirement programs.
Learn more about our supply chain, commercial services and technologies investment banking expertise.