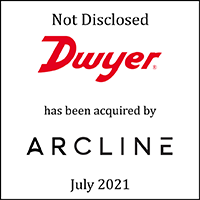 William Blair acted as the exclusive financial advisor to Dwyer Instruments, Inc. (Dwyer) in connection with its sale to Arcline Investment Management (Arcline). The transaction closed on July 21, 2021.
Transaction Highlights
Deep sector expertise and relationships: Dwyer highly valued William Blair's industrial technology expertise and history of partnering with family-owned businesses. William Blair's extensive knowledge of and M&A experience within the sensor and instrumentation industry was essential to optimally positioning Dwyer for strategic, financial, and family office buyers.
Process and execution excellence: William Blair's transaction team designed and executed a high touch, expedited process that maximized competitive tension throughout the process and enabled the family owners to have a full view of the potential buyer landscape. The team successfully managed multiple parties through full diligence post-IOIs, creating a competitive process dynamic that culminated in a highly successful outcome for shareholders.
Bespoke positioning: The transaction team clearly articulated Dwyer's leading position in demanding applications where the highest precision measurement is crucial, world-class automated manufacturing capabilities, and the massive demand inflection for air / pressure measurement and control devices coming out of COVID-19.
About the Companies
Dwyer is a global leader in the design and manufacture of innovative sensors and instrumentation solutions for the process automation, HVAC, and building automation markets. Founded in 1931, Dwyer is based in Michigan City, Indiana, and has additional offices in Asia, Europe, and Australia.
Arcline is a growth-oriented private equity firm that seeks to invest in thriving middle market businesses in high-value industries. Arcline's investment strategy combines deep business model expertise, proactive thematic research, an unrelenting focus on the upside, and a collaborative, management-first approach to value creation. The firm's primary sectors of interest include defense, aerospace, critical infrastructure services, industrial & medical technology, life sciences and specialty materials. Arcline currently has $4.3 billion in cumulative capital commitments.
Learn more about our industrial growth products investment banking expertise.