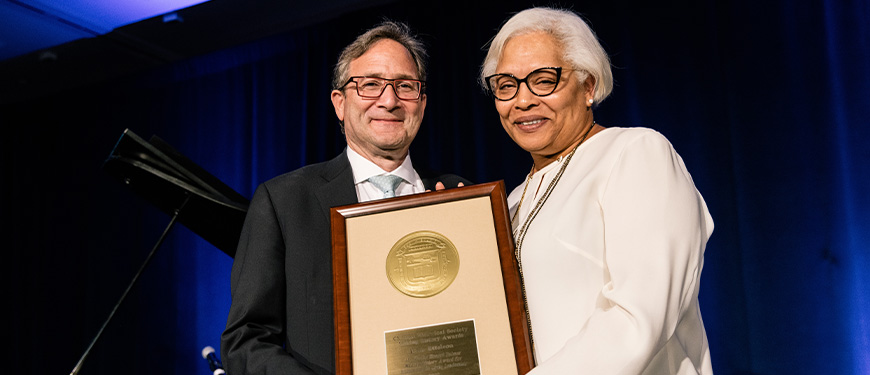 William Blair Chairman John Ettelson received the prestigious civic leadership award from the Chicago History Museum at its annual award celebration in Chicago on June 8.
The Bertha Honoré Palmer Making History Award for Distinction in Civic Leadership recognized Ettelson's extraordinary leadership and passion for serving the Chicago community for over 30 years.
"John was chosen for the 2022 Making History Award for Distinction in Civic Leadership as he truly exemplifies a remarkable Chicagoan who has made a commitment to his city as both a civic and business leader," said Donald Lassere, the Edgar D. and Deborah R. Jannotta President & CEO of the Chicago History Museum. "His ongoing commitment to the community through both philanthropy and volunteerism has provided the support needed for local causes to advance their missions, including the Chicago History Museum."
The Chicago History Museum, the city's oldest cultural institution founded in 1856, has hosted its Making History Awards celebration each summer since 1995 to raise financial support for the museum's education programs and to celebrate the accomplishments of individuals from all walks of life for their contributions to art and culture, sports, business, and civic life.
"I am very honored to have received this award tonight, and I greatly appreciate all the work the Chicago History Museum is doing to memorialize our city's greatest accomplishments and moments in history," Ettelson said in receiving the award.
Ettelson, a life-long Chicagoan, joined William Blair in 1984 and became president and CEO in 2004. Under his leadership, the firm expanded globally and annual revenue grew sevenfold to over $2 billion. This year, he was named chairman of the firm.
His commitment to civic service extends into the community through his engagement and leadership on many boards over the years, including Lincoln Park Zoo, Economic Club of Chicago, World Business Chicago, Northwestern Medical Group, and Executives' Club of Chicago. Ettelson is the current board chair of the Chicago Council on Global Affairs; a trustee of the Illinois Holocaust Museum; a member of the Civic Committee of the Commercial Club; executive advisor to the Metropolitan Planning Council; a life trustee of Francis Parker School; and serves on Chicago Chairman's Council for Cradles to Crayons.
"From a young age, my parents instilled in me the importance of community and civic involvement and support—regardless of whether that be time, talent, or treasure," Ettelson said. "I grew up learning that even the smallest act of kindness or generosity can make a significant impact."
Civic and community engagement has also been a part of the William Blair culture since the firm was founded 87 years ago, a tradition led by Ettelson and other managing partners and CEO's—the Blairs, Ned (Edgar D.) Jannotta, Dave Coolidge, and Brent Gledhill.
As the firm grew globally, William Blair has extended its philanthropic work through its employee-led Global Community Partners Program, which was conceived by Ettelson. William Blair employees partner with nonprofits worldwide, helping them strengthen their communities through financial support and volunteer time.
"We have a unique culture of business, civic and not-for-profit leadership, working together to solve social problems," Ettelson said. "It is incumbent upon all of us to help others, be engaged and involved, and continue to move the city forward."