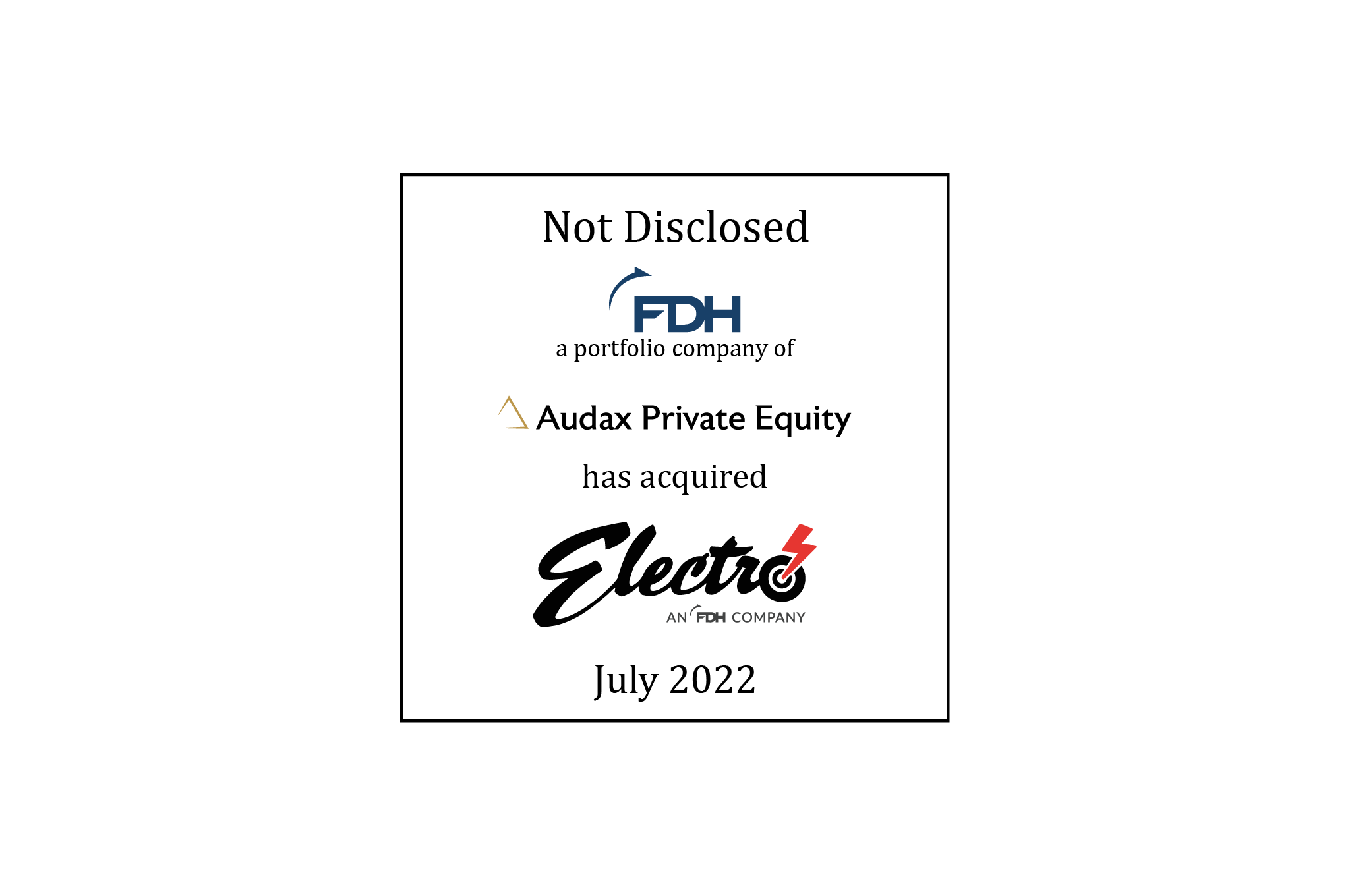 William Blair acted as the exclusive financial advisor to FDH Aero (FDH), a portfolio company of Audax Private Equity (Audax), in connection with its acquisition of Electro Enterprises, Inc. (Electro) and follow-on acquisition strategy. The transaction closed on July 12, 2022.
About the Companies
FDH Aero is a trusted global supply chain partner for aerospace and defense. With more than 55 years of experience, FDH specializes in hardware, c-class components, electrical & electronic products, chemical, and consumable products and services for global OEM and Aftermarket customers in the commercial, defense and space sectors. FDH is headquartered in El Segundo, CA, has operations across North America, Europe, and Asia, and employs more than 800 people globally. For more information, please visit FDHAero.com.
Audax Group is a leading alternative investment manager with offices in Boston, New York, San Francisco and London. Since its founding in 1999, the firm has raised over $32 billion in capital across its Private Equity and Private Debt businesses. Audax Private Equity has invested over $9 billion in more than 150 platforms and over 1,100 add-on companies and is currently investing in add-ons out of its $3.5 billion, sixth private equity fund. Through its disciplined Buy & Build approach, Audax seeks to help platform companies execute add-on acquisitions that fuel revenue growth, optimize operations, and significantly increase equity value. With more than 360 employees and over 150 investment professionals, the firm is a leading capital partner for North American middle market companies. For more information, visit the Audax Private Equity website, at www.audaxprivateequity.com, or follow us on LinkedIn.
Founded in 1970 and based in Oklahoma City, Electro is a leading supply chain partner to aerospace and defense OEMs across the globe. The company supports key defense OEM platforms for its global customer base from locations in Oklahoma, Texas, the United Kingdom, and Israel. Today, Electro has grown to become one of the largest aerospace and defense, electrical and electronic components distributors with access to more than 80 authorized lines and 190,000 SKUs.
Learn more about our aerospace, defense and government services investment banking expertise.