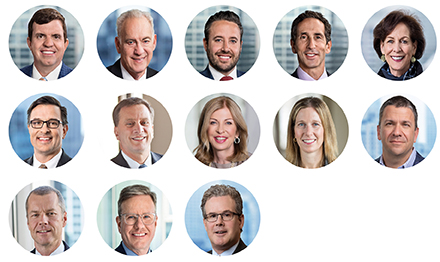 Forbes magazine named 13 William Blair advisors to its 2021 Best-In-State Wealth Advisors list released February 11, representing the firm's offices in Chicago, Atlanta, and Boston.
This is the first year Steve Elkins (Chicago), Andrew Feichter (Chicago), Brian Marshall (Chicago), Tom Marx (Chicago), Jackie Moss (Chicago), Craig Savage (Atlanta), Mike Sirvinskas (Chicago), and C.J. Young (Boston) made the top state list.
They join John Cultra (Chicago), Dan Grant (Chicago), Louise Lane (Chicago), Carlette McMullan (Chicago), and Tom Wilson (Chicago), who have made the list previous years.
Honorees were among the top financial advisors from Illinois, Massachusetts, and Georgia recognized by Forbes.
"Congratulations to William Blair advisors named to Forbes Best-In-State Wealth Advisors, recognizing their talent and dedication to serving clients," said Ryan DeVore, global head of William Blair's Private Wealth Management group. "We are thrilled to see a growing number of William Blair advisors and offices recognized on this prominent list, especially as we expand our services across the country."
The best-in-state rankings are based on data provided by more than 5,000 top-performing advisors from across the country, evaluating assets under management, industry expertise, and best practices.
The advisors and their teams serve individuals, families, organizations, and foundations to help them achieve their investment goals, strengthen family legacies, and endow their clients' charitable activities.