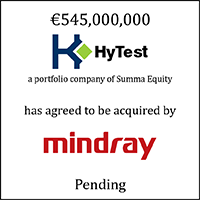 William Blair acted as the exclusive financial advisor to HyTest, a portfolio company of Summa Equity in connection with its pending sale to Mindray (Shenzen Stock Exchange Ticker: 300760) for €545 million in total consideration. The transaction was signed on May 16, 2021 and is expected to close in the second half of 2021.
Transaction Highlights
Process management: William Blair's transaction team was integrally involved throughout each step of the process, providing decisive guidance to facilitate an accelerated timeline in a virtual environment. Due to COVID-19 related travel restrictions, the William Blair team coordinated with management to develop a virtual site tour of HyTest's Russian location, its lead manufacturing facility, as many bidders were unable to physically gain entry to the country, a critical aspect during the due-diligence process. Similarly, many prospective buyers were unable to access HyTest's executive headquarters in Finland.
Execution excellence and premium valuation: The William Blair team created significant competitive tension, receiving bids from potential strategic and financial buyers from numerous geographic regions (Asia, Europe, and the U.S.). This competitive tension culminated with a final transaction value well in excess of shareholder expectations.
Diagnostics sector expertise: HyTest and Summa Equity were attracted to William Blair's unrivaled track record of transaction success in the diagnostics sector, including the recent successful sales of Base Genomics to Exact Science and Stratos Genomics to Roche.
Strengthening client relationship: The transaction represents William Blair's first mandate with Summa Equity, HyTest's largest shareholder and a leading Nordic private equity firm.
About the Company
HyTest produces high-performance antibodies and antigens for use as key components for various laboratory assays and kits. The company has gained market leading positions in several key segments, including cardiac markers, inflammation, and infectious diseases. HyTest's products cover over 20 disease groups and supplies antibodies and antigens for in vitro diagnostic (IVD) tests run on over 300 million patients globally. The company is based in Turku, Finland with a presence in Shanghai, China, and Moscow, Russia.
Summa Equity was founded in 2016 and closed its second private equity fund in 2019 with SEK 6.7 billion to invest with the aim of helping solve global challenges. The firm invests in sectors associated with three megatrend-driven themes: resource efficiency, changing demographics and technology-enabled businesses, and has built a portfolio of companies that contribute to positive development of the U.N. Sustainable Development Goals within areas such as health, education, agriculture, and technology. Summa Equity has offices in Sweden and Norway.
Mindray is a publicly listed entity on the Shenzhen stock exchange with a market capitalization of €70 billion. The company is a leading developer, manufacturer, and supplier of medical device solutions and technologies used in healthcare facilities around the globe. The company empowers healthcare professionals through innovative, high-value solutions that help create the next generation of life-saving tools across three primary business segments: medical imaging, patient monitoring and life support, and in-vitro diagnostics. Mindray is based in Shenzhen, China and has additional facilities in major international markets around the world.
Learn more about our healthcare investment banking expertise.