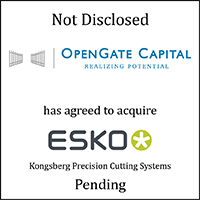 William Blair acted as exclusive financial advisor to OpenGate Capital LLC in connection with the pending acquisition of Kongsberg Precision Cutting Systems ("Kongsberg"). Kongsberg is a part of Esko-Graphics BV, the packaging and print systems business of Danaher Corporation. The transaction was announced on December 16, 2020 and is expected to close in March 2021.
About the Companies
OpenGate Capital is a global private equity firm specializing in the acquisition and operation of businesses to create new value through operational improvements, innovation, and growth. Established in 2005, OpenGate Capital is based in Los Angeles, California with a European office in Paris, France. To date, OpenGate Capital, through its legacy and fund investments, has executed more than 30 acquisitions including corporate carve-outs, management buyouts, special situations, and transactions with private sellers across North America and Europe.
Kongsberg is a state-of-the-art, digital cutting business including high-speed cutting tables and related consumables and services. Founded in 1965, Kongsberg has a well-established heritage and expertise in providing continuously optimized clean, precision cuts at high speeds for packaging, signage, and display purposes. There will be an estimated 400 employees transferring with the business, including Kongsberg's facilities in Ghent, Belgium; Brno, Czech Republic; and in Kongsberg, Norway.
Esko-Graphics is a global developer of integrated software and hardware solutions for the packaging, label, and wide format sectors. The Esko solutions consist of an extensive suite of software and two hardware product lines: CDI flexo computer-to-plate imagers and Kongsberg digital cutting systems, complemented with professional services, training and consultancy. Esko employs about 1,800 people worldwide and is based in Ghent, Belgium.
Danaher Corporation, based in Washington, D.C., is an American globally diversified conglomerate. The company designs, manufactures and markets professional, medical, industrial, and commercial products and services. Danaher was founded in 1969 and has approximately 60,000 employees globally.
Learn more about our industrials investment banking expertise.