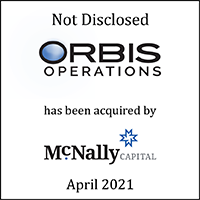 William Blair acted as the financial advisor to Orbis Operations (Orbis), a portfolio company of Adelphi Capital (Adelphi), in connection with its sale to McNally Capital. The transaction closed on April 7, 2021.
About the Companies
Based in McLean, Virginia, Orbis Operations is a leading provider of intelligence and national security advisory services, cyber security capabilities and solutions, and situational awareness training.
Adelphi Capital is a merchant banking group that has expertise across the transportation, telecommunications and technology, financial services, infrastructure, and national security sectors.
McNally Capital is a family-owned private equity firm targeting thesis-driven investments in the U.S., specifically founder and management-owned companies. Formed by the McNally family, who owned and operated Rand McNally & Company, McNally Capital is dedicated to upholding a 140+ year legacy as a family-owned and operated company. The firm looks for businesses where flexible capital can provide a benefit to owners and management teams. Their mission is to harness the financial, intellectual, and human capital of the family office and investor ecosystem to build value for investors, management teams, and portfolio companies.