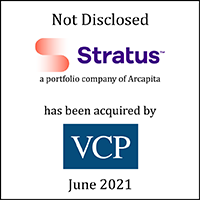 William Blair acted as the exclusive financial advisor to Stratus Unlimited in connection with its sale to Vestar Capital Partners from Arcapita Investment Management. The transaction closed on June 30, 2021.
Transaction Highlights
Deep sector knowledge: Stratus Unlimited was attracted to William Blair's extensive knowledge and experience in the asset-light facility services sector, as well as the firm's strong relationships with likely financial and strategic buyers. This expertise allowed the transaction team to effectively position Stratus Unlimited in a way that resonated powerfully with prospective buyers.
Successful positioning: The transaction team successfully articulated Stratus Unlimited's position as a leading asset-light, tech-enabled provider of diversified facilities maintenance services including branding, refresh & remodel, energy, and repair & maintenance services.
Process and execution excellence: William Blair crafted a highly efficient process focused on the most aggressive sponsor and strategic buyers in the facility services sector, that offered the right cultural fit for management. The team drove a highly competitive process that generated significant interest, resulting in an outlier, pre-emptive outcome at the IOI phase.
About the Companies
Stratus is a leading brand implementation and facilities services company offering signage solutions, energy services, repair and maintenance programs, and refresh and remodel capabilities across 50 states and 24 countries. With more than 50,000 projects completed annually, the company provides versatile solutions for some of the world's largest and most recognized brands.
Arcapita is a global alternative investment manager, with offices in Atlanta, London, and Singapore and an affiliated office in Bahrain. Arcapita's principal lines of business are private equity and real estate, and its management has a 24-year track record of over 90 investments with total transaction value in excess of $30 billion.
Vestar Capital Partners is a leading U.S. middle-market private equity firm specializing in management buyouts and growth capital investments. Vestar invests and collaborates with incumbent management teams and private owners to build long-term enterprise value, with a focus on consumer, business & technology services, and healthcare. Since its founding in 1988, Vestar funds have invested $8 billion in 85 companies – as well as more than 200 add-on acquisitions – with a total value of approximately $50 billion.
Learn more about our Supply Chain, Commercial Services & Technologies investment banking expertise.