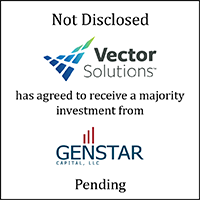 William Blair acted as the lead financial advisor to Vector Solutions, a portfolio company of Golden Gate Capital, in connection with its pending majority investment from Genstar Capital. The transaction was announced on May 14, 2021 and is expected to close in the second quarter.
Transaction Highlights
Trusted guidance and strong relationships: The William Blair team has maintained a long-standing partnership with Golden Gate Capital, providing tailored advice to their software portfolio. The team successfully advised management and Golden Gate Capital through each step of the process and closely collaborated on developing marketing materials, coordinating due diligence, and navigating accelerated and unique process dynamics, while facilitating dialogue with premier financial sponsors that William Blair has cultivated strong relationships with.
Unparalleled domain expertise: Vector Solutions and Golden Gate Capital were attracted to the transaction team's unrivaled knowledge advising market leading software platforms. William Blair's industry experience partnering with training, workforce, and risk management software platforms enabled the team to articulate a powerful growth story, create a unique M&A process strategy, and offer a deep understanding of buyer priorities.
Execution and process excellence: The transaction team ensured thorough and robust preparation at the onset to maximize process agility and flexibility to capitalize on a highly accelerated process timeline and demanding diligence. The team successfully positioned Vector Solutions as a highly scarce, market leading asset, ultimately leading to an exceptional outcome for shareholders.
About the Companies
Vector Solutions is the leading provider of award-winning, intelligent SaaS solutions that help organizations and individuals operate at the highest level and prepare for more challenging workplaces and environments. Providing industry-focused solutions that connect information and technology, its unique product set includes training management, continuing education (CE), compliance training, workforce scheduling, safety management, and more. Its extensive online and mobile training library features carefully curated world-class content to meet the unique needs of professionals in the industrial, engineering, education, and public safety industries. Reaching approximately 22 million users and more than 21 thousand clients worldwide, Vector's mission is to serve everyday heroes by delivering intelligent software solutions that empower them to make safer, smarter, better decisions. The company was founded in 1999 and is based in Tampa, Florida.
Golden Gate Capital is a San Francisco-based private equity investment firm with over $19 billion in cumulative committed capital. The principals of Golden Gate Capital have a long and successful history of investing across a wide range of industries and transaction types, including going-privates, corporate divestitures, and recapitalizations, as well as debt and public equity investments. Notable software investments sponsored by Golden Gate Capital include Infor, BMC Software, LiveVox, and 2020 Technologies.
Genstar Capital is a leading private equity firm that has been actively investing in high quality companies for over 30 years. Based in San Francisco, Genstar works in partnership with its management teams and its network of strategic advisors to transform its portfolio companies into industry-leading businesses. Together with Genstar X and all active funds, Genstar currently has approximately $33 billion of assets under management and targets investments focused on targeted segments of the financial services, healthcare, industrials, and software industries.
Learn more about our technology investment banking expertise.