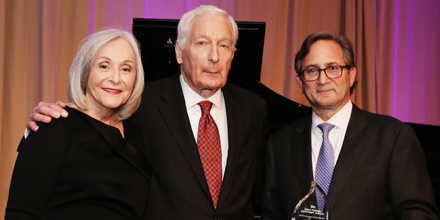 From left Grant Park Music Festival awards benefit co-chairs Sondra Berman Epstein and Julian Oettinger with William Blair President and CEO John Ettelson
William Blair was presented a 2019 Grant Park Music Festival Advocate for the Arts award recognizing its support of cultural and artistic initiatives at the Festival's annual benefit held in Chicago on October 1.
This event marked the Festival's 85th summer season of classical music performed by a world-class orchestra and chorus in Chicago's lakefront downtown park. The venue in recent years has centered in the gleaming new facilities in Millennium Park along Michigan Avenue.
The benefit raised a record $845,000 to fund concerts, artistic development, radio broadcasts, and community engagement programs that affect more than 800,000 people each year.
"We honor William Blair for their longstanding commitment to the arts and culture in Chicago," Julian Oettinger, a founding board member of the Festival, said to the record crowd of 500 civic leaders who gathered at the Four Seasons Hotel for the annual benefit.
"Since 1935, they have been committed to serving the community and supporting its philanthropic needs. Arts and culture remain a cornerstone of their giving today—whether to the Art Institute of Chicago, the Illinois Holocaust Museum and Chicago Sinfonietta, or to the Grant Park Music Festival, as sponsor of our Weekend Classic Series," he added.
William Blair President and CEO John Ettelson accepted the award on behalf of the firm, thanking the group for the honor and its dedication to the arts and the community.
"Your Festival continues to be the premier summer gathering place for all of Chicago," Ettelson said at the event. "I believe it was serendipity that brought us together and a common commitment to world-class talent and the transformative impact that philanthropy and the arts play in our community."
William Blair has a civic tradition of supporting the arts that dates from the firm's founding in Chicago nearly 85 years ago. The firm supports more than 100 arts and humanities organizations and developed a deeper partnership with the Festival in 2019 when Michaelle Burstin, head of brand, marketing and communications, joined the board.
The Festival began recognizing advocates of the arts in 2012. Other award recipients have included Former President of Millennium Park Foundation John Bryan; Classical radio station WFMT; Former Mayor of Chicago Richard M. Daley; and President and CEO of Planned Realty Group Robert Buford, who also was honored at this year's celebration.